RaceComp Engineering Black "Regular Guy" Springs
---
About a month ago I bought a set of
Racecomp Engineering Black "Regular Guy" Springs
. I thought that I would give you guys a little review.
Quote:
Originally Posted by RaceComp Engineering
Racecomp Engineering Black "Regular Guy" Springs
An OEM replacement spring for 2004-2007 Subaru WRX STi and the next in the Racecomp Engineering growing line of performance springs.

Designed for use with standard STi inverted struts or Ohlins Fixed Perch Replacement Struts, these springs are intended for both the daily driven street driver as well as the autocross and track day weekend warrior. Using similar spring rates as the extremely popular and successful RCE Yellow Springs, but having a much more subtle/mild drop in comparison, these are perfect for STi owners not looking for a ride height much lower then stock, and yet are still looking for increased spring rates. Spring rates are still 10% stiffer then JDM Pinks with an emphasis on the rear rate, so you will still be outpacing just about everything on the track and auto-x course.

When installing these springs, some addtional NVH may be experienced do to increased spring rate.

WRX owners will need a conversion to use these springs. Please call for details.
Here are the specs:
Spring rates:

285 lbs/in front (224 STOCK)
269 lbs/in rear (194 STOCK)

Drop:
Quote:
Originally Posted by twiSTies on IWSTI
The stock springs on the STi are too soft for the stock strut valving. The rate doesn't match. To remedy this, there are several options for springs all geared for different uses. The proper match to the stock valving are the JDM Pinks. However, they leave some people desiring for more performance, which is where the Swifts and RCE springs come in. The RCE springs are designed with a higher rear rate to help balance the cars handling out at the limit. The front rate is also higher than the Swifts or Pinks to help with dive and turn in response.
I am extremely happy with how these springs ride and perform. For me these were the perfect spring because I didn't really want to drop the car (because it is my daily driver), but still wanted to improve the ride quality and performance of my suspension. About a week ago I went to my first AX and an experienced driver was very impressed with how flat my car stayed through the turns and asked what suspension mods I had made. All I have done so far are these springs! The car handles very well for me and it got rid of some of the bounciness of the car.
To look at the car you probably wouldn't even notice that the car is dropped either. It makes it a lot easier to get around Pittsburgh than it was with my old WRX that was lowered on Eibach springs.
Before:
After:
Before: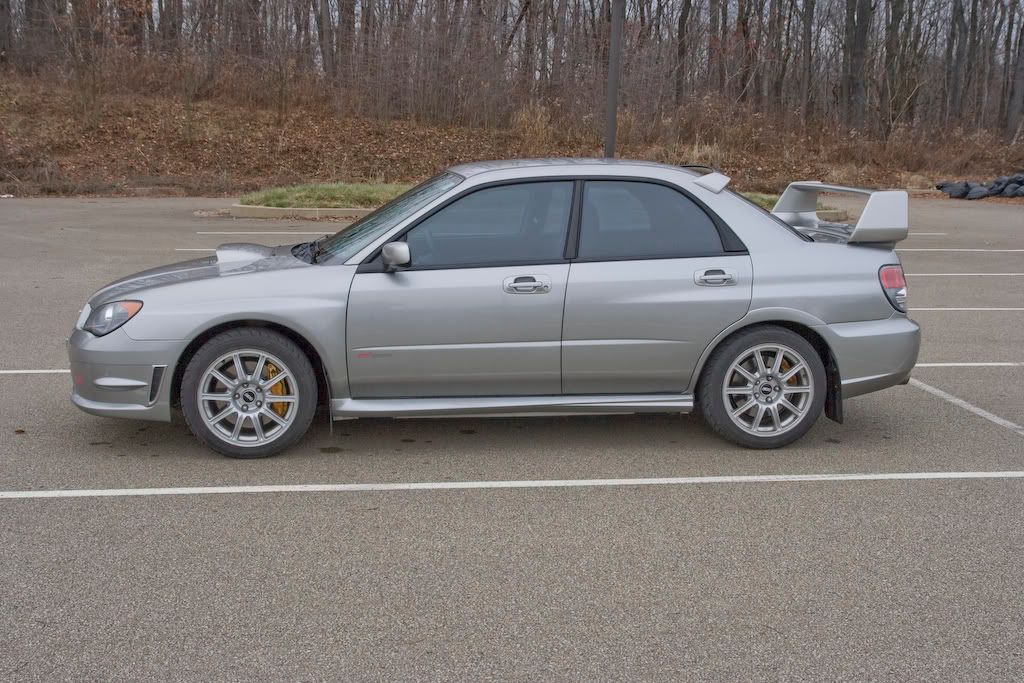 After: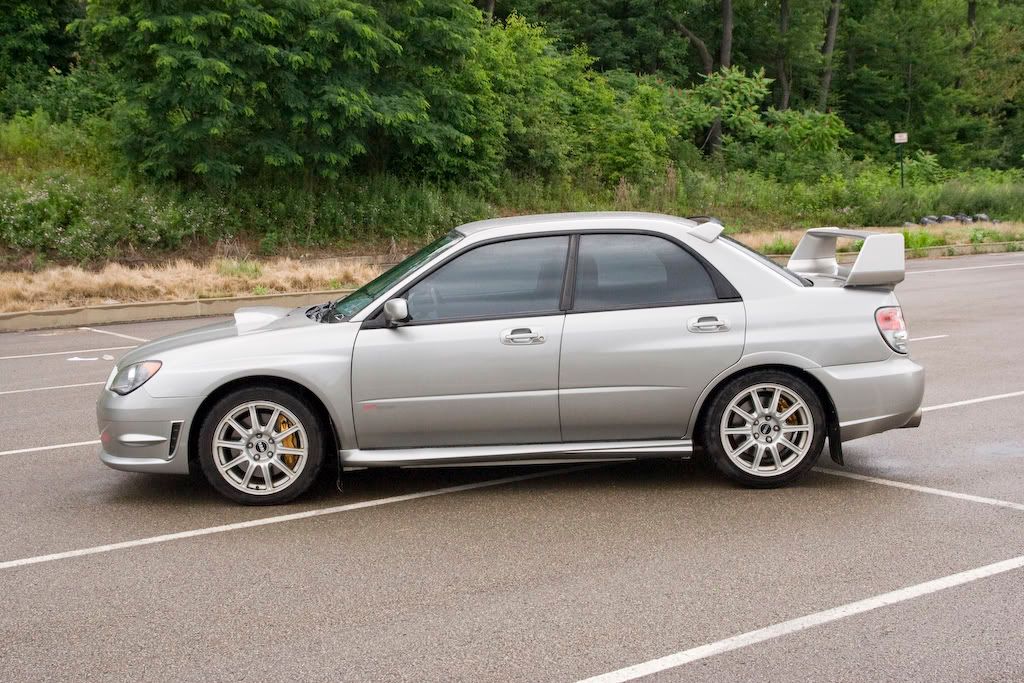 The installation was very easy and accomplished without the aid of a spring compressor. Taking our time it only took Dexterous and I about 3 hours total as he knew exactly what he was doing. The only special tool I recommend is an impact gun, but that isn't necessary. Thanks for all your help Tom!
I hope that this helps someone make a spring choice for their STI.
---
My name is Ken and I am a HP Junkie.
Currently Active Users Viewing This Thread: 1

(0 members and 1 guests)
Posting Rules

You may not post new threads

You may not post replies

You may not post attachments

You may not edit your posts

---

HTML code is On

---