WRXtuners Member
Join Date: Apr 2007
Location: California
Posts: 80
Modded 06 WRX Protuned w/chart.
---
Well the day finally came!
I drove my car the 150 or so miles to get to Harman Motive in Torrance CA today and finally got my 2006 WRX Protuned.
Mods:
K&N Panel Filter
STi TMIC
Invidia V3 Catless Divorced Wastegate DP
Cobb SS3" CBE
Cobb AP V.2
With those mods I managed to squeaze 227 WHP and 272 WTQ at 16.3 lbs of boost. This ended up being enough to be the strongest '06 WRX that they had ever tuned.
The baseline was with the Cobb Stage2 map installed directly through the AP V2. So you can see that the stock map from cobb is actually quite nice when it comes to smoothness. I must say though, after tune, my Christine pulls like a real bitch. I actually felt that I had to restrain myself when wanting to get on it from a light, simply because it feels so friggin fast now.
As far as gains go... gains were great. I am very happy with the results. For those wondering what the next step would be... Bigger Turbo. And that is a step that I am not going to do to this car. That is for another project. So... except for a GP Moto silence delete mod, this is it for power modifications.
All in all... its been a long time in the making, but I was grinning all the way home.
35 runs and every run was as solid as the previous run. The tuner was visibly impressed. HUGE
to the guys at Harman Motive,
Harman Motive
!!
See attachment for the proof.
~E
those are pretty good numbers, congrats man. my bugeye was the most whp and tq on stock turbo at H & H in NC, it was 240whp and tq on a mustang.
---
rollin on 17's now and they're dirty
WRXpert
Join Date: Jul 2006
Location: Pennsylvania
Posts: 2,182
your afr looks to be all over the place, it drops to 10.5 at 6400.
---
Dom Tuned 2003 WRX Wagon
251.3 WHP
235.8 WTQ

If it's worth doing, it's worth overdoing
WRXtuners Member
Join Date: Jun 2006
Location: Connecticut
Posts: 1,229
WRXtuners Member
Join Date: Jun 2007
Location: Texas
Posts: 4,996
That's a conservative tune. Is that what you wanted ? Might wanna ask them to tune it a "little" bit more aggresive, up the boost to 16.5 or so. AF is a little low as well.
---
Paul
2002 WRX Sold
2007 WRX Sold
2007 STi totaled
2007 Foz XT sold
2007 MS3
Moderator
Join Date: Mar 2005
Location: Pennsylvania
Posts: 6,808
boost doesn't make power, airflow makes power. There comes a point where raising boost actually reduces air going into your engine and thus reduces power. People obsess so much about boost numbers as to think that 16.3 is inherently worse than 16.5? Sheesh.
---
2015 STi: Still Stock
04 STi, 04 WRX: SOLD
WRXtuners Member
Join Date: Apr 2007
Location: California
Posts: 80
The boost numbers on the dyno read about 1psi lower then the bost numbers on the engine itself. He was just using the dyno boost numbers as a guide. My manifold boost pressure is 16.3 as max.
I dunno about the A/F Ratio graph. Its consistant with the amount of timing advance he ran. I dont know THAT much about A/F Ratios to be quite honest. Just know that the car never feels fuelstarved or too rich right now. If someone can explain to me why my A/F graph is bad I will most definately as the tuner!
*Edit
Oh.. and the dip in both HP and TQ at around 4000 is a Cobb problem. My tuner tried around 20 pulls or so to even that out, and what happened was that the Cobb AP did not manage to override the stock ECU at that point for some reason. He said that Cobb had told him they fixed the problem, but obviously did not. Evidently not THAT many 06 and 07's have gone on the dyno, mainly earlier models. He said that once Cobb find a way to completely override the stock ECU he would send me an updated map that would clear that right up.
having a 2.0, I am quite envious of that much torque before 3800rpm
Congrats!
---
Matt
Stroked and stoked!
Moderator
Join Date: Dec 2006
Location: Maryland
Posts: 6,493
Nice numbers, I would be completely happy with something like that. Congrats on the tune man.
---
Joshua
"2007 WRX- PPG'd, 20G- Tim Bailey tuned
Stage 2 2005 WRX
Cobbtuning.com"
Very nice conservative tune!
I am thinking about getting a protune....
Here is my dyno chart w/ the following mods:
Cobb AP V2 93 Octane Stage 2
ERZ DP (Catless) *Currently have Invidia V2 Catless
SPT Cat-back
*Currently have STi TMIC but not for dyno*
239.x awhp and 289.x awtq on Dynapack Dyno: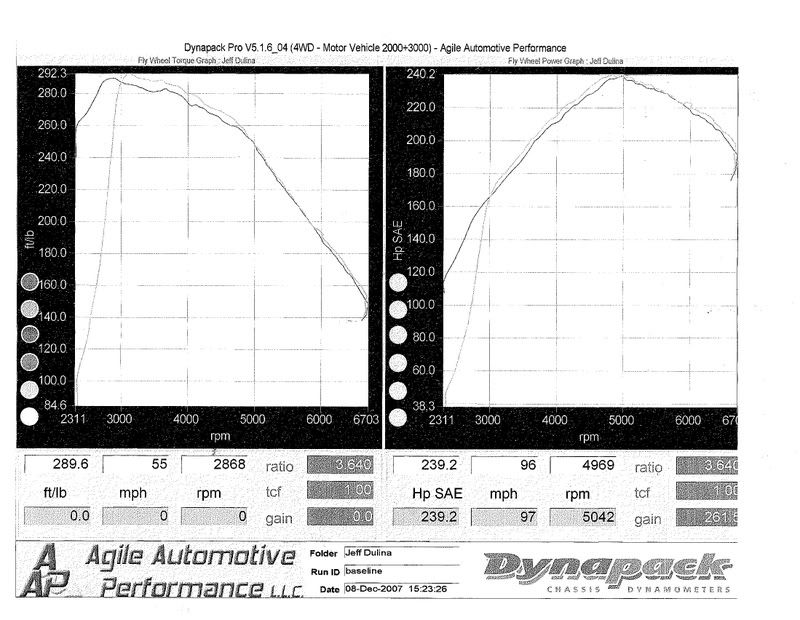 Currently Active Users Viewing This Thread: 1

(0 members and 1 guests)
Posting Rules

You may not post new threads

You may not post replies

You may not post attachments

You may not edit your posts

---

HTML code is On

---