Thanks Chris. That's the exact spot I would have considered drilling/tapping if I were to do it myself, but I don't have a drill press, nor do I have any experience drilling/tapping anything (not that I doubt my abilities). My dad was telling me about his experience working on Mustangs back in the 60s/70s and he put a little fear in me as far as drilling into cast iron, mating different types of metals, expansion/contraction during heat cycles, only getting one chance to tap things properly, the risk of cross-threading, breaking a tap and having to drill it out, being without a car for a period of time - pretty much anything and everything that could possibly go wrong (hey, that's what dads are for, right?)... which is what got me thinking about the GS parts to avoid all of that potential trouble.
Thanks for the info about the DP bung - I had a suspicion that was the case, but I didn't look into it. Thanks for saving me some time. I knew the temp readings would be lower since it's several feet further away from the heat source, but I didn't realize it would be around several hundred degrees +/- (that makes sense though).
For now, I'll just hook up everything else for all the gauges and have an inactive EGT gauge with the sender unit/wire ziptied neatly in a coil somewhere in the engine bay near the driver's side exh-mani until I can get the GS pieces and do it properly.
As for wrapping/spraying over the flex-section of the GS crosspipe, is that an issue as far as limiting flexibility or does the wrap flex too? Even after being sprayed? I imagine the flex section would move around a bit as the engine vibrates during normal (and abnormal) driving similar to the flex section in the cat back... I wouldn't want to stiffen that up too much unnecessarily. Do you wrap everything except the flex section or is it ok to cover that up?
I've never wrapped/sprayed anything before, but that sounds like it would be doable given my attention to detail when it comes to those types of things. Obviously, the best option is probably to get the GS pieces ceramic coated and then wrap/spray them myself. I'm not too keen on the idea of reusing the stock heat shields if I can help it. I just don't like the look - not that anybody can see under there anyway. It's a mental thing.
I guess it's time to man up and drop another several hundred bucks
---
John
07 WRX
WRXtuners Member
Join Date: Sep 2009
Location: Michigan
Posts: 2,164
I have a deal with GS that I just ask them whenever I come across a set of elbows... Usually they buy them from me, but every now and then they're good on cores and don't need any. I think all in after my two cores I sent back I spent about $400 on pnp, crosspipe, egt tap, ceramic coating. Since then I've sent in 11 sets of elbows and made a couple hundred more.
If you buy a pnp set from them, yes they give you $140 back for your core. If you want to send extra sets they give you $80 per set. I've given them a good amount of cores, and as long as I can get the elbows for cheap enough I make $20-30 per set after shipping. I do the same thing with DW, but injectors I can usually double my money.
As for wrapping, don't wrap the flex joint. That keeps too much heat on it and will wear it out in quick order. Just make sure to soak the wrap in water, I like to use hose clamps to secure the ends, and wait for it to dry before you coat it. After I coat it I bake it on my grill rather than put it right on the car and heat it up that way... Pretty sure you're supposed to bake the spray, and doing it on the car is fine, I just prefer to get the smoking done on the patio than under my hood.
How I did my up-pipe (used the crappy straps that came with the wrap):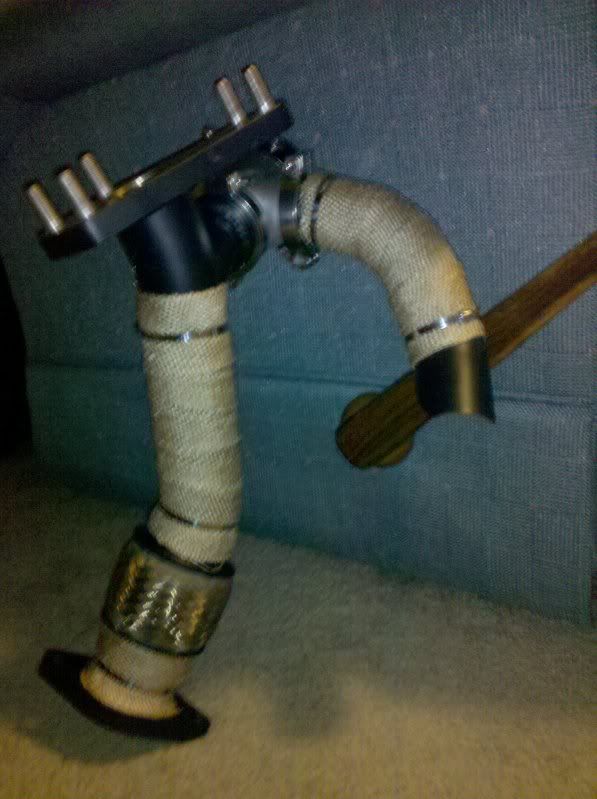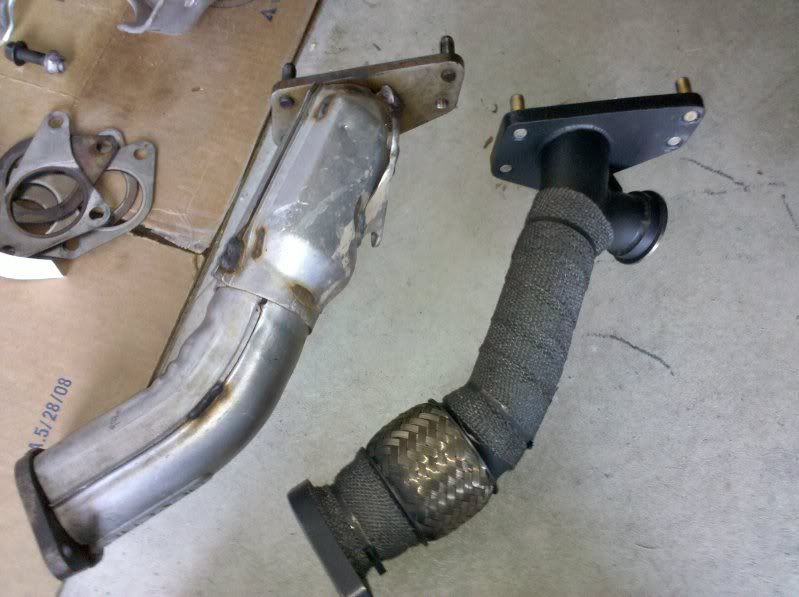 ---
-Chris
Awesome. After checking out a bunch of pics of the stock exhaust manifold, it looks like it would fairly difficult to wrap neatly/effectively. I could wrap the high flow crosspipe, but I also saw a temperature graph of stock headers vs. ceramic coated headers and there's a 100 + degree difference throughout the RPM range, so I think I'll be fine with the ceramic coating and leaving the stock heat shields off when I reinstall everything. The thick cast iron design of the ends + ceramic coating on everything should be plenty good for a dd - although I might end up changing my mind about wrapping the crosspipe at the last minute
F. There's always a catch. Bye bye $, hello horsies and EGT sensor.
Question: would the ceramic coating significantly increase the temp readings of the EGT sensor if it's installed on the driver's side casting button? I'm guessing probably not because the gases have only traveled several inches from the block - sorry, I think I answered my own stupid question.
The pipes would be ceramic coated inside and outside... I was just trying to make sense of why I would be paying for them to remove material (metal) from the inside of the pipes if they're just going to replace that with a different material (ceramic coating). I guess the thickness of metal removed is greater than the thickness of ceramic coating added = net gain of inner pipe diameter plus smoother flowing connections/surfaces = net gain overall. Nevermind.
Should I be concerned with the ceramic coating breaking off inside the mani and shooting through the hot side of the turbo and damaging the fins?
Just trying to cover my bases here. Thanks for being patient...
---
John
07 WRX
WRXtuners Member
Join Date: Jun 2007
Location: Texas
Posts: 4,996
I don't think they coat the inside... Also don't think they port ALL the way through (forgot the company that does it ALL the way through). Ron (DumDum knows) of the technique I believe.
---
Paul
2002 WRX Sold
2007 WRX Sold
2007 STi totaled
2007 Foz XT sold
2007 MS3
WRXtuners Member
Join Date: Sep 2009
Location: Michigan
Posts: 2,164
They actually do coat the inside, sort of. They really only get as far as it will spray in, so before the bends.
You can kind of see it in this picture.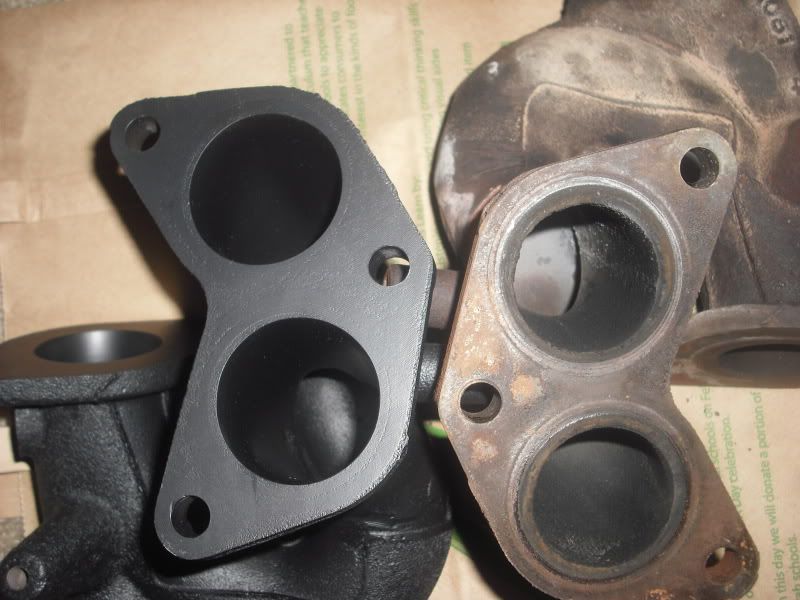 Also, for the coating taking up removed material in terms of diameter... It's a very thin coating in the scheme of things. Even with the coating my pipe diameter went from this (just under 1 1/2"):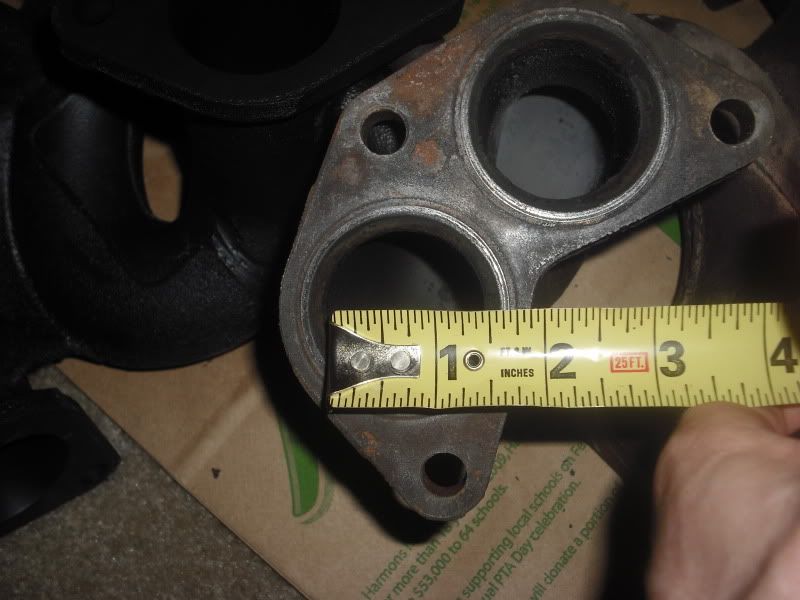 to this (just under 1 3/4"):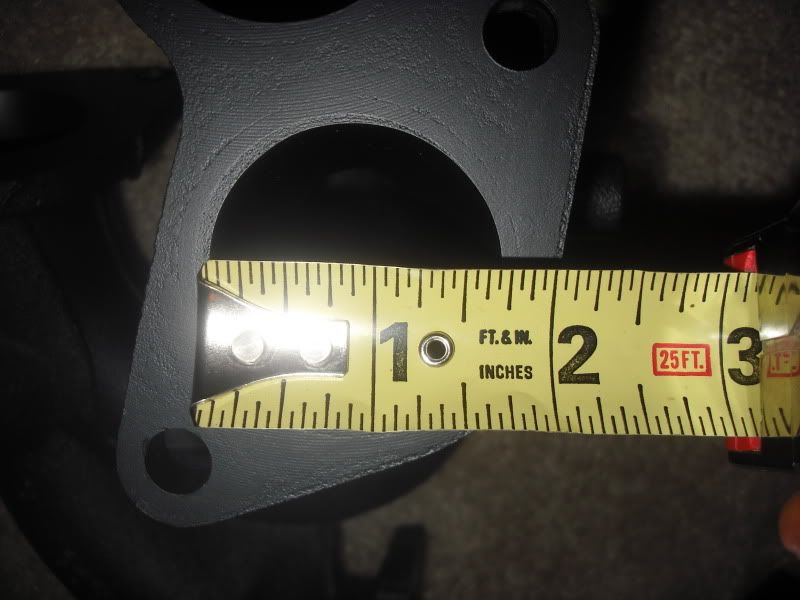 ---
-Chris
WRXtuners Member
Join Date: Jun 2007
Location: Texas
Posts: 4,996
Nice piece either way Chris.

John's question is valid, about pieces coming/flaking off in time. Wonder if it happens?
---
Paul
2002 WRX Sold
2007 WRX Sold
2007 STi totaled
2007 Foz XT sold
2007 MS3
Quote:
Originally Posted by
pzr2874
John's question is valid, about pieces coming/flaking off in time. Wonder if it happens?
Thanks, yeah I'm still wondering about this too. I'm thinking that after a short period of time, a layer of black carbon/exhaust particles will form a coating on the inside of the pipe and will sort of seal any inner ceramic coating material in place. Now that I think about it, this probably isn't much of an issue.
I re-read the description on GrimmSpeed's website and they claim to remove about 6-7 mm of metal near the inlet/outlets so the thin layer of ceramic coating that replaces that is really probably negligible.
Thanks for the pics and info
I also emailed GrimmSpeed and they said new hardware would be provided, so I won't have to worry about that. Also, I can expect about a 2.5 week turn around on porting jobs, which isn't too big of a deal. I'm getting pretty excited now
---
John
07 WRX
WRXtuners Member
Join Date: Sep 2009
Location: Michigan
Posts: 2,164
I don't think they include new nuts for the head studs but they do give you four bolts and nuts for the crosspipe.
---
-Chris
Well, I guess some is better than none. I'll try to be really careful when I take everything apart. Worst case, I could pick some up at the dealership.
---
John
07 WRX
WRXtuners Member
Join Date: Jun 2007
Location: Texas
Posts: 4,996
Extrudehone ... Found it in another thread. JR posted the name and I remembered.... hahaha
---
Paul
2002 WRX Sold
2007 WRX Sold
2007 STi totaled
2007 Foz XT sold
2007 MS3
Currently Active Users Viewing This Thread: 1

(0 members and 1 guests)
Posting Rules

You may not post new threads

You may not post replies

You may not post attachments

You may not edit your posts

---

HTML code is On

---