WRXtuners Member
Join Date: Aug 2012
Location: California
Posts: 3
HUD windshield gauge mod (pics)
---
Hey all, I'm just playing around with some interior mods to my '02 WRX STi conversion. I'm looking for some more ideas to play around with!
The pics are kind of blurry since I took them with my droid, but please bear with me
I have a 10.1" Asus Transformer tablet with the Torque app installed.
I also got a OBDII Bluetooth transmitter that sends active engine data to my tablet.
The app has an HUD mode that broadcasts the gauges onto the windshield in real-time.
In this first pic, I have the tint on the windshield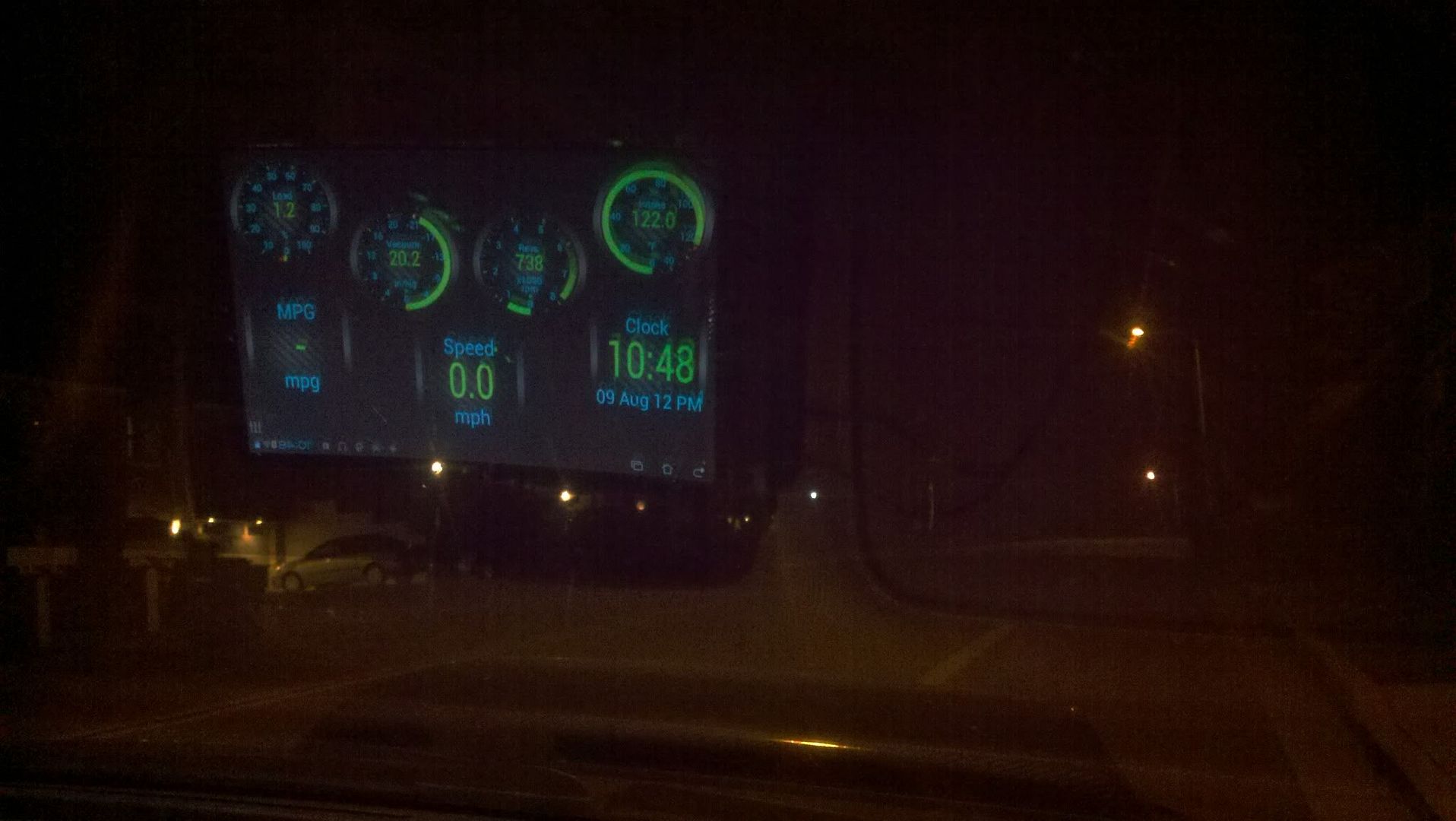 Kind of cheap but effective, I carefully cut Velcro strips to put on the tablet case and the drink holder slot.
I can slap the tablet on the two strips and it holds perfectly under all driving conditions.
This is a different theme of the app that I'm messing with
My pain is that, to keep the double image from showing up,
I have to put some 50% tint on the windshield (shown) which is illegal in Cali.
I haven't been pulled over yet, but we shall see. Any ideas on how to eliminate that?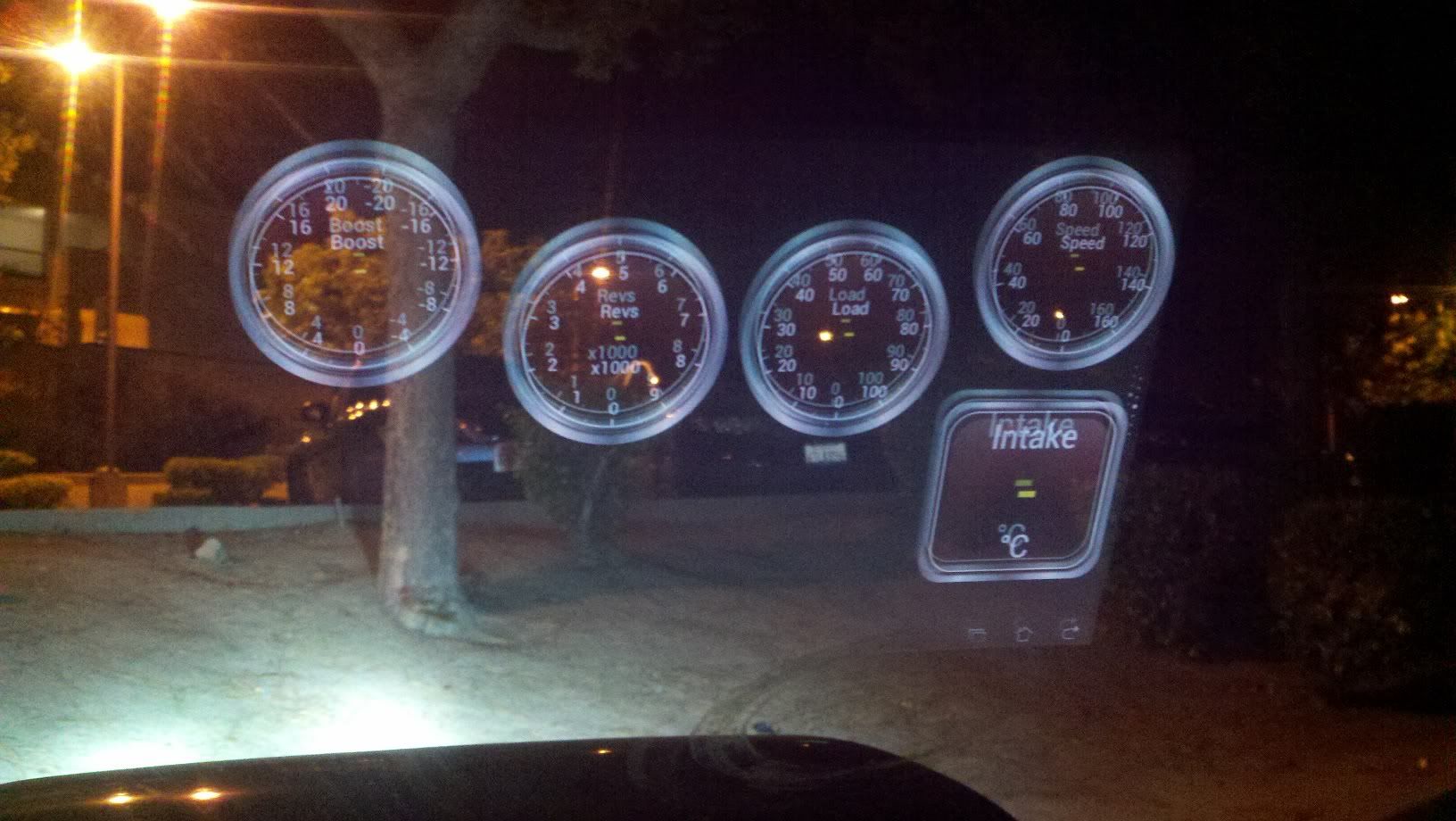 Well I must say this is a first for me.
Kind of alot of things to have on the windshield at once that would drive me crazy,but that's your cup of tea.
I'd probably tweak it for just boost,tac and MPH.
Like the low profile Cobra. !Laugh! I have the same one and I put it around the same area.
Thanks for sharing.
---
Cobb Accessport Stage 2.
JDM ej205 swap.

Home state: PA Crew

Chuck.
WRXtuners Member
Join Date: Jan 2011
Location: Pennsylvania
Posts: 2,697
I had the HUD on my 240sx, loved it. since our windshields are dual layered you will have the double display unless you put something non transparent on the inside. Thats a great app, for gauges as long as its accurate.
---
Randy-
2002 blaze WRX- sold:(
2004 Wrx-sold
2011 Wrx limited
99 Fozz- sold
Eagle eye crew
WRXtuners Member
Join Date: Aug 2012
Location: California
Posts: 3
In a few weeks I want to get the Bluetooth iRadar detector (to replace my Cobra) so it transmits to the tablet also. I also put a piece of tint on the windshield to take away the double image, but I'm wondering how long it is till I get a ticket for it... The OBD2 sensors are as accurate as can be, straight from the ECU. The app is pretty quick to communicate also
WRXtuners Member
Join Date: Jan 2011
Location: Pennsylvania
Posts: 2,697
awesome, thats the sht
---
Randy-
2002 blaze WRX- sold:(
2004 Wrx-sold
2011 Wrx limited
99 Fozz- sold
Eagle eye crew
WRXtuners Member
Join Date: Aug 2012
Location: California
Posts: 3
Here's a video update of the mod, which I'll be upgrading soon. There's a new OBDII transmitter that sends information as fast as the analog gauges, which will be ultra sexy


Currently Active Users Viewing This Thread: 1

(0 members and 1 guests)
Posting Rules

You may not post new threads

You may not post replies

You may not post attachments

You may not edit your posts

---

HTML code is On

---