WRXtuners Member
Join Date: Sep 2009
Location: Michigan
Posts: 2,164
DIY 08+ Impreza Hatch/WRX Hatch/STi Tail Light Painting
---
I just did this last night and I say anybody with an 08+ HB should as well.
It's a pretty easy process but time consuming. This has been up on Nasioc for a while but I mine's well do one just for you guys.
Materials:
All from Home Depot/Autozone
1500 grit wet sand paper
2000 grit wet sand paper (optional)
Soapy Water
Duplicolor Metal Cast Red Spray Paint (you can also use Krylon Red Stained Glass Spray Paint)
UV Resitant Gloss Clear Coat (I used Rustoleum Clear)
Masking Tape
Razor/Exacto Knife
Tools to get lights off car
Process:
1: Remove tails from car. If you need directions proceed to step 11
2: Thoroughly clean tail lights. I used glass cleaner.
3: Soak your 1500 grit in water for a couple minutes and prepare a solution of dish soap and water.
4: Begin sanding tail lights with the 1500 grit. Make sure to keep the lights wet with the soapy water. The light will start to look hazy. Don't freak out that's how it works.
Sanded light vs unsanded.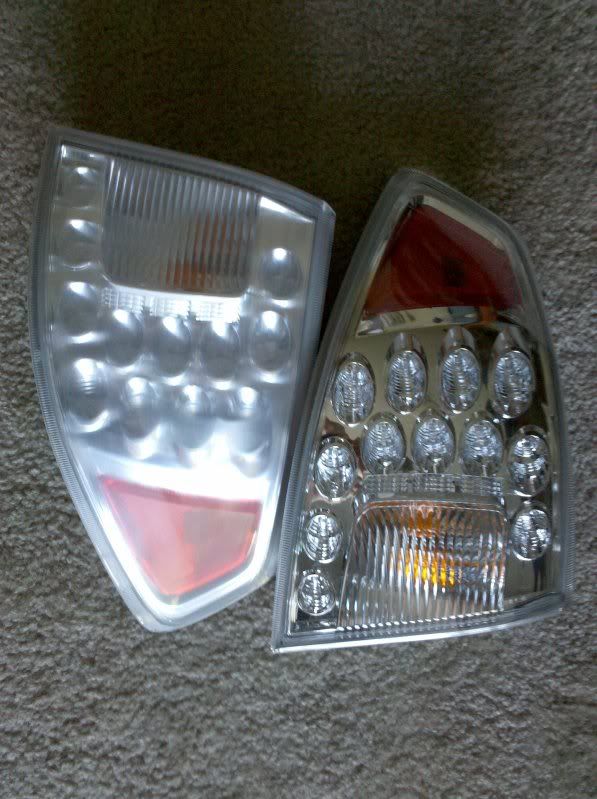 5: Once all lights are sanded, go ahead and clean them off with glass cleaner again.
6: Once cleaned, you can begin the masking process of the reverse light and turn signal light areas. What I did was the perimeter first, using a spare razor to meticulously follow the outline of the area to be masked off. Then I mocked them back on the car to make sure the lines will match up once the paint is on.
7: Go back and fill in the rest of the area you don't want to paint with masking tape.
Masked off and ready for paint: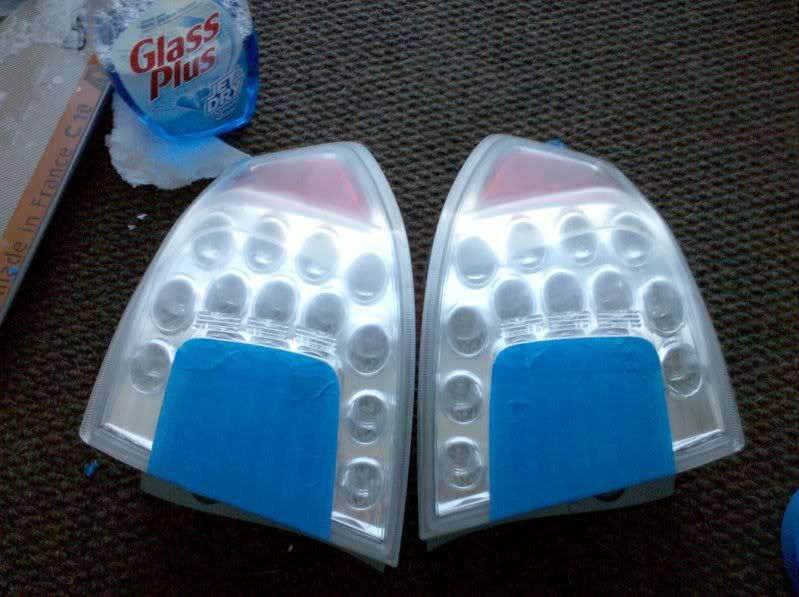 8: Make sure you're in a non-windy, non-dusty area and begin the painting process. Light coats are best. I ended up with three light-medium coats of the red paint, but you can adjust to your taste (the more the darker).
After the first coat: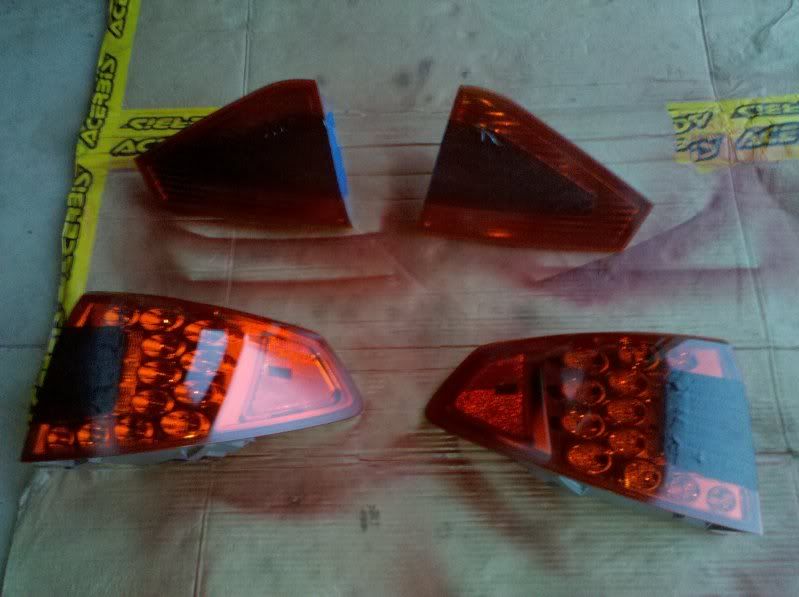 9: Once you get your red paint on, let it dry for a good 20 minutes before you hit it with clear coat. I ended up using three coats of clear on top of the paint. Again, used light coats to try and prevent runs and orange peeling. I gave it ten minutes between coats. The last coat I did put on pretty thick to prevent orange peel and it worked just fine.
10: Let the clear dry for at least one hour before you attempt to put the lights back on the car. Once they are dry, reassemble the lights back into the car and voila, your car now looks better.
Final product: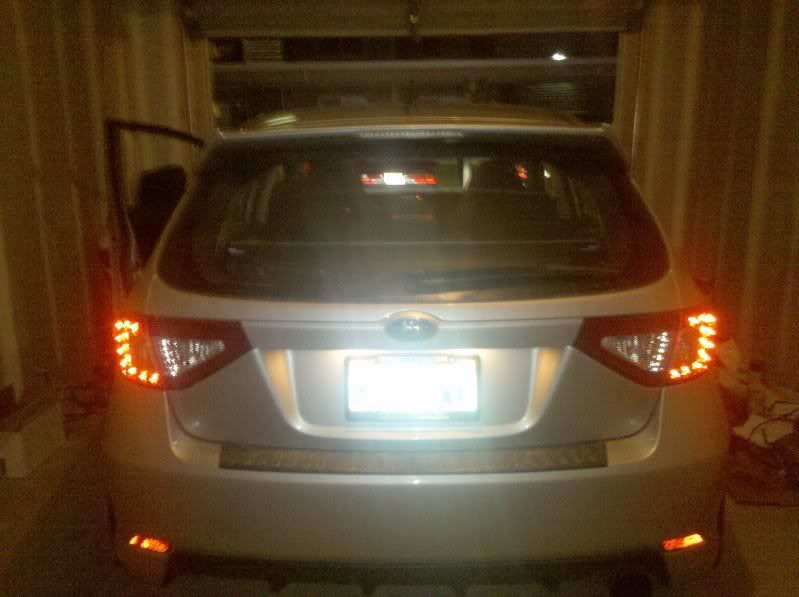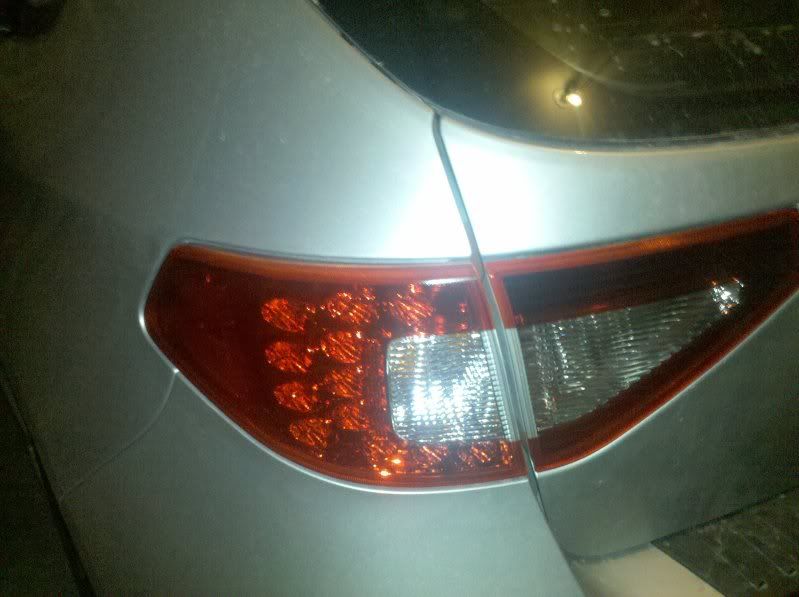 I'll get more after pictures up once I get a chance to take pictures after work tonight. I got done late last night and the pictures didn't turn out so hot.
Step 11: If you need directions to remove your tail lights, save yourself the grief and don't do it. You'll eff up your lights.
---
-Chris
---
Last edited by RcrsWetDream; 06-09-2010 at

03:53 PM

.
Looking good Chris, IMHO that looks so much better than the factory!
---
FP GT35R MoTeC M800 AndrewTech PPG'd Wagon - 513AWHP
13 Abarth 500 - Stockish
- Matt
Moderator
Join Date: Mar 2005
Location: Pennsylvania
Posts: 6,808
Everyone does this mod. It's like eyelids on the bugeye. I don't know what subaru was thinking with those taillights.
---
2015 STi: Still Stock
04 STi, 04 WRX: SOLD
WRXtuners Member
Join Date: Sep 2009
Location: Michigan
Posts: 2,164
If the taillights would have looked that way stock.,...i'd probably be in a hatch. Nice job.
---
so stock its not even funny...just kinda sad :(
-Randy
WRXtuners Member
Join Date: Jul 2007
Location: Pennsylvania
Posts: 4,371
Looks awesome. Why couldn't they come that way? Seriously...
---
Kirt
378awhp/373wtq Custom Dom 3 & CBRD tuned 2006 STI.
"When in doubt...flat out" - Colin McRae
Currently Active Users Viewing This Thread: 1

(0 members and 1 guests)
Posting Rules

You may not post new threads

You may not post replies

You may not post attachments

You may not edit your posts

---

HTML code is On

---