WRXtuners Member
Join Date: Sep 2005
Location: Maryland
Posts: 573
Just got back from SCCA SoloII School
---
Ok, I finally got to shred some rubber on the course for the first time. For anyone in the Washington D.C. region SCCA, you will be familiar with the course at Harry Grove Stadium in Frederick. What a great place to learn! The instruction was great, and I got about 10 runs for myself, with 4 or 5 runs with the instructor driving (my car was one of those used to let everyone ride out the course first thing in the morning). I had a great time, and my car passed tech with no problem (yes, even with a big hole in my bumper...). Of course people asked about it, but the discussion on tech didn't even touch body work. All we had to check for was to make sure batteries were secure, the throttle/brakes worked well, there were no loose items in the interior, etc.
Anyway... there was a good mixture of cars out there. Let me run down the lines and try to remember everything that was out there. Corvette Z06, Lotus Elise, '65 AC 427 replica, 350Z roadster, BMW M Roadster, 2 Porsche Boxsters, 2 05 STi's, Mazda6, Legacy GT Spec-B (2.5), 03 WRX wagon (me), 06 WRX wagon, 05 Saab 9-2x Aero ("Saab-aru"), SRT-4, and a Mini Cooper S.
The fastest cars (the STi's, of course
) put down times in the low 30's to high 29's (the blue STi got a 29.7-second run). Most other cars were putting down times in the 31 to 33-second range, although most of the runs were up around 36-seconds+ (some up to 50 seconds for whatever reason) because of pylon penalties, as well as people going off course. The instructors didn't keep track of the times, as it wasn't a competiton. Most drivers simply wanted to see what they could do, but some of us were more competitive. The silver STi hit a cone or two on almost every run, and so did most other cars. Luckily, I only punished one cone all day (end of the slalom one time). The instructor that coached me was impressed that I had gotten the slalom down to where my rear tires were touching the cones after a few runs.
My personal best time was 32.673, which was about .5 seconds behind the other driver in STX class. He was running the Saab 9-2X with a Cobb Accessport, sway bars and endlinks. Considering all I have are some TEIN S-Techs (which many people say hurt performance) and a rear strut bar, on Yokohama V4s tires (lol, more on those later), I think that's pretty good.
There were a few spinouts from the Boxsters and the 427, but other than that everyone did a pretty good job running the course. All I can say is, apart from a sunburn, it was a 100% awesome experience, and I will DEFINITELY be competing next season.
Now, I will discuss the aftermath, and I will say that I have learned a lot. Including the fact that tires that are good for normal driving in rain and in snow sometimes, will get shredded when pushed to the limit. Considering I was putting down times better than the guy running a Lotus Elise (until he learned the line and finally broke into the mid 31's), the Mini Cooper S (which ran a 30.44 on one of his final runs), the Z06 and the 427. The American muscle seemed to have a little too much power and weight to match the lightweight imports' agility out there, which is about what I expected.
I rolled up to the parking lot, and my tires looked like this: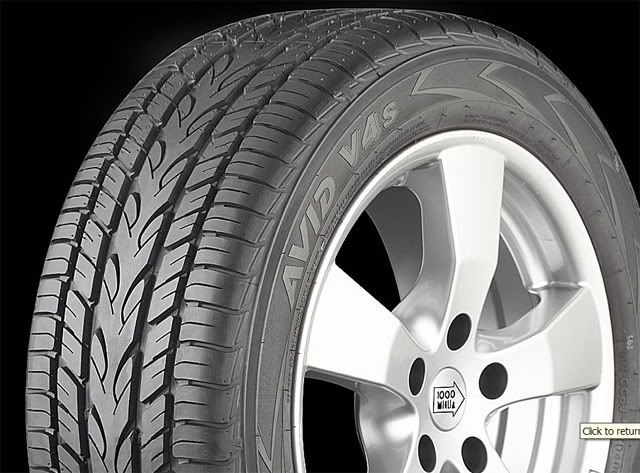 I inflated my tires to 10 PSI over (42) the reccomended pressure (32) before we got started, and after the first set of runs (with the skidpad), I could see some wear on the edge, and the PSI had risen to about 46 PSI in the fronts. The rears weren't wearing too much at all. By the end of the day, I did a final walk-around just to see how "bad" my tires were compared to some other guys who were running onto their sidewalls.
I saw this !Cry! :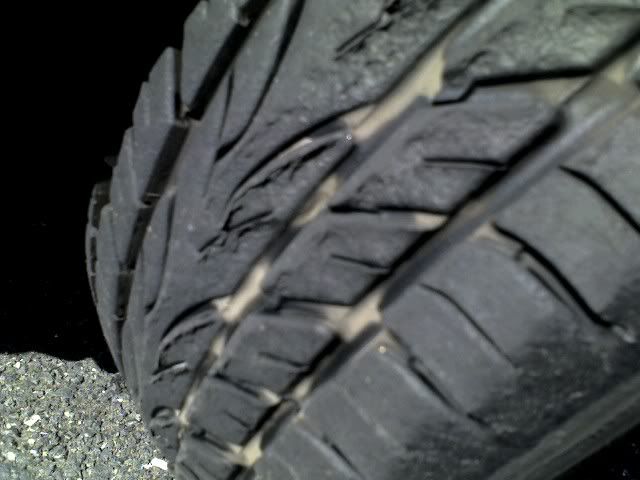 Obviously, this is a testament to how hard I pushed my car, and that I thoroughly enjoyed this experience. I am definitely going to pick up some R-compound tires for next season. The Lotus Elise had Advan tires, and I was putting down times slightly better or slighly slower than it on most runs. I'll keep discussion about what tires to get in the Handling Forum, but I just wanted to show you guys how hard I was pushing my car!
Anyway, here are some more pics from the event. I was a good boy, and didn't take pics while on the course, but I got some good ones from the grid,
On the front lines (we were the first to show up. The Z06 owner is a nice guy):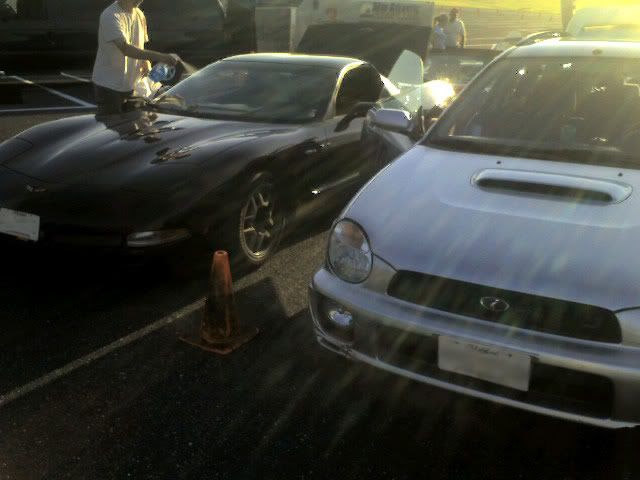 Blue STi piloted by a great driver, next to the 427: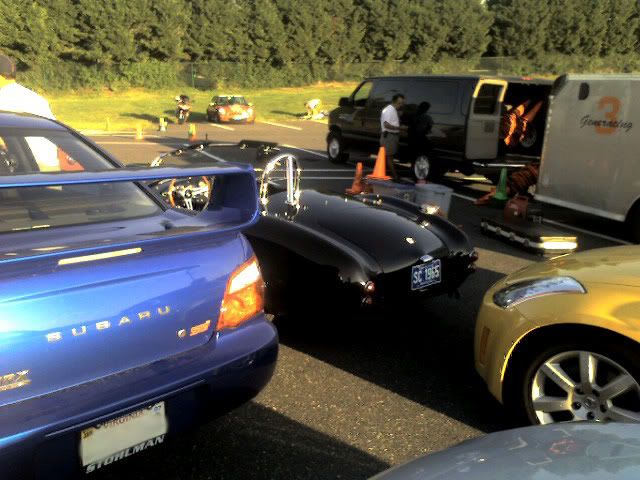 Check out these beautiful wheels (and awesome tires) on the Elise: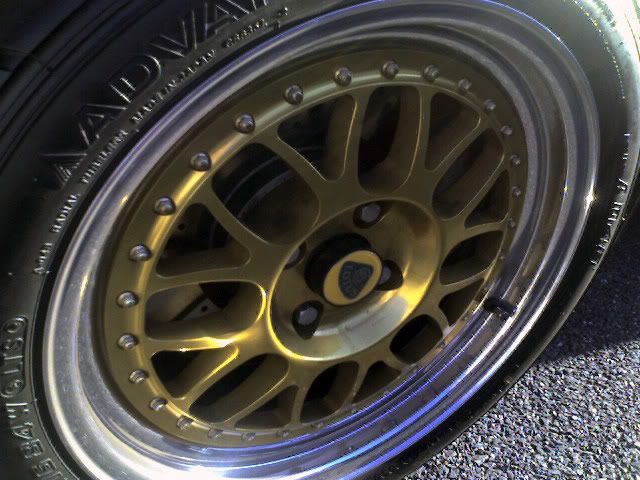 Driver of the Elise, luckily he didn't headbutt anyone!
: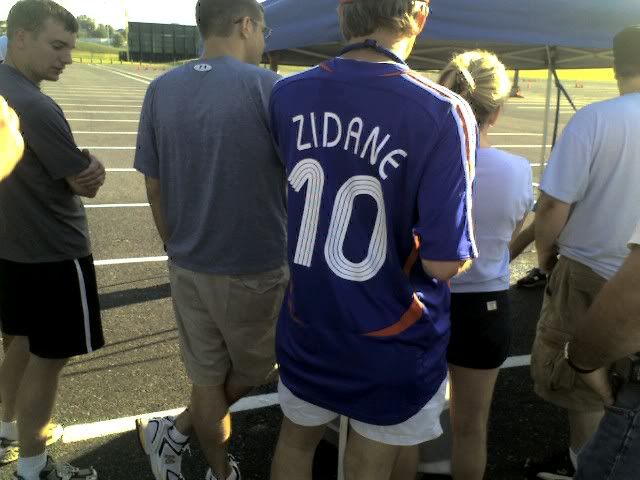 These cars are just so sexy. I wish I could have driven it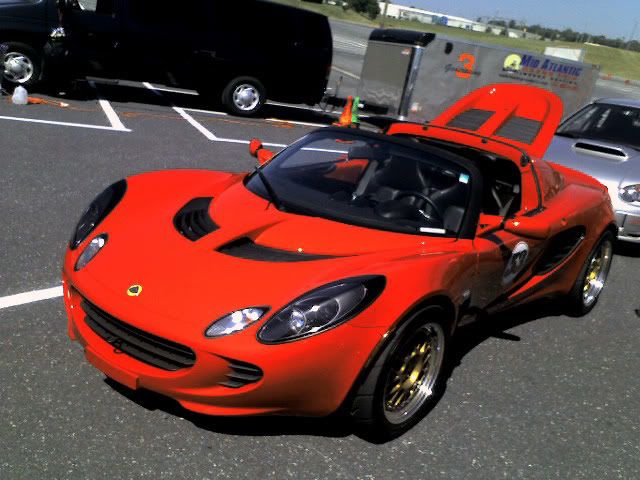 ---
Last edited by smores; 08-05-2006 at

09:11 PM

.
Currently Active Users Viewing This Thread: 1

(0 members and 1 guests)
Posting Rules

You may not post new threads

You may not post replies

You may not post attachments

You may not edit your posts

---

HTML code is On

---