Quote:
Originally Posted by
Big Sky
Looks good- they got the cage nice and tight to the chassis Looks like some work ahead- fun work! Do you have a rough fighting weight?
Hanksville Hotrod shop did the excellent cage work. 2600 # with driver is the class rule. I think I'll come in under that (I shed the PS, AC stuff is coming out, and I only weigh about 160) so I'm hoping I can put a little ballast back in the passenger side, for better balance. the SPA fire system goes in this weekend after I nearly kill myself with xylene fumes getting all the adhesive out. I'm going to use rattlecan bed liner paint for the floor, since I'll be piling tools and spares in the car. Window and right side nets are done already. Dash reinstall or fabrication is undecided so far.
Ooops, I wasn't going to talk about the build here
Cheers
WRXtuners Member
Join Date: Sep 2006
Location: Nevada
Posts: 2,245
i wanna hear more. i talk about my car all the time and this is WAY better so i think its ok!
i vote fabricated dash with a bunch of the jet type toggles. the ones with the red cover you open up then flick
---
Robby
02 rex is gone.
I defected to an evo :)
Evo is gone :(
Now I got nothing.
WRXtuners Member
Join Date: May 2007
Location: Washington
Posts: 168
Have fun! Will be looking forward to seeing how you do.
Making a little progress
---
Well I got part of my disintegrating dash in, and started the goop removal process. Couple of questions....
I'm using Xylene where it's needed and was wearing latex gloves, the kind made for cleaning. They started to fall apart after about 20 min. Any suggestions ? Surgical latex maybe ?
There's still a lot of fuzzy (and sticky) crap, especially around the "back" seat area. I'm tempted to use a torch on it. Any reason why not ? I have a powerful heat gun, and that isn't making things any easier. Please advise, thanks
I'm hoping to get some paint on Hank's nice cage, since it's been very wet here and rust is showing already. I'll also try to get the fire bottle, T-handle and nozzles mounted tomorrow.
[IMG]
[/IMG]
[IMG]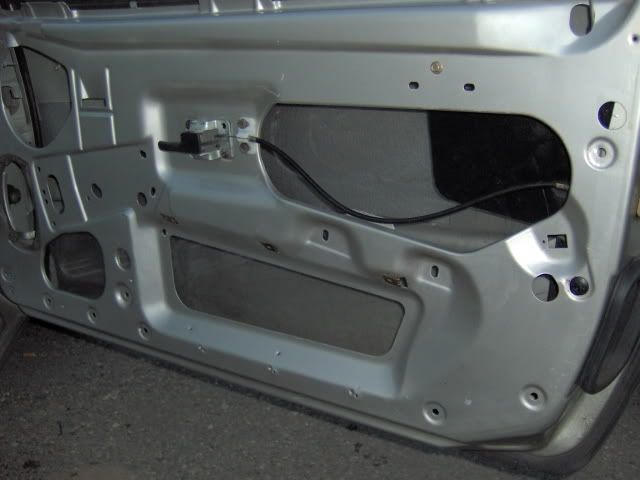 [/IMG]
[IMG]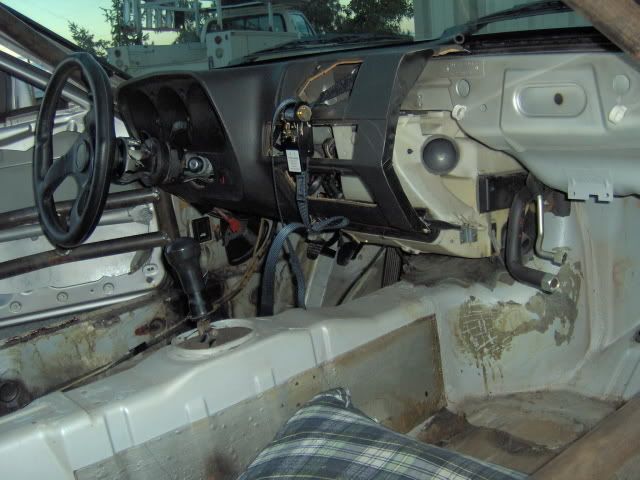 [/IMG]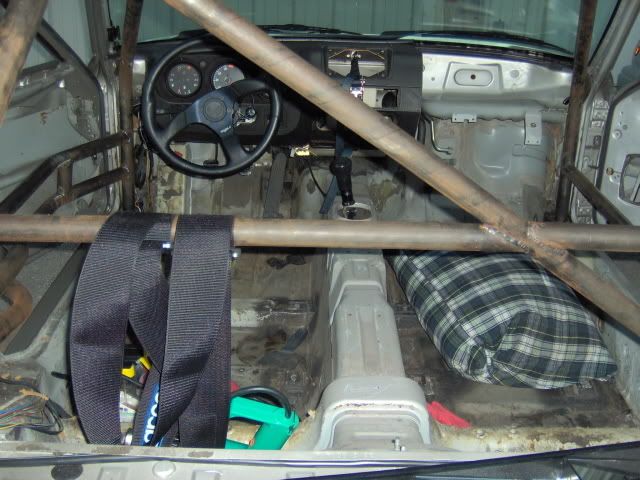 Sorry for the lack of pictures.....

I got the interior all cleaned and the cage and floor painted, the fire bottle mounted, nets installed, and the kill switch wired. I'm just a rear tow eye and a coolant change away from passing safety tech but...

I took the car down to an open track day at Sandia on Sat. and after 12-14 minutes on track threw a rod bearing, maybe two. We checked all the timing, balance shaft water pump etc. and it would appear that the top end is OK. The drain plug magnet had enormous chunks of rod bearing, and from hearing it turn over, my good friend and mechanical sponsor, Lisa, figures that the crank and rods are damaged. No hemorrhaging though.

The good news is that when I get on track to race next year, the car will have a fresh motor, as well as all the suspension work I've got planned for the winter. Bummer that I won't get to drive it until then. The wagon may have to come out and play on a couple more Time Attack events, on all season radials, unfortunately.

Anybody got a deal on a Porsche 2.5 short block ?

No pictures because the car is sinking into the mud in Lisa's yard, until I can finance the engine work. Cheers
WRXtuners Member
Join Date: Sep 2006
Location: Nevada
Posts: 2,245
bummer man. that sucks to hear. Atleast you can find some good in it though.

Should be a beast next year. Do you need a complete block? You cant just replace the crank and rods?
---
Robby
02 rex is gone.
I defected to an evo :)
Evo is gone :(
Now I got nothing.
WRXtuners Member
Join Date: Jul 2007
Location: California
Posts: 134
OMG I CANT STOP LAUGHING AHHAAHHAHAHHAHAHAHHA NEMESIS!!!!

anyway back on topic, im glad your moving ahead bro, no need to call yourself a traitor, ive seen many street people go from street to amateur pro and its kind of sad, but i guess your skill is needed elsewhere, thx for contributing what you did bro, definately helped the wrx comunity alot
Moderator
Join Date: Dec 2006
Location: Maryland
Posts: 6,493
Sorry about your luck. Good luck with building it up though. I do hope to still hear about your car and your events.
WRXtuners Member
Join Date: Sep 2006
Location: Nevada
Posts: 2,245
Did you get the new motor?

Yes I brought back a thread from october.

Im in the racing mood.
---
Robby
02 rex is gone.
I defected to an evo :)
Evo is gone :(
Now I got nothing.
There is a lot to cover to bring this thread up to date, so.....
I'll start with the blown motor. the pics say it all
I found another engine at a scrapyard in ALB. for $300, and decided to do the work myself. Figured I could learn a bunch from the experience. The old trashed engine came out, and the new one went on an engine stand. I got lucky, in that the junkyard block was in really clean shape. The head went to our local machine shop for the valve work, which was basic stuff, new seals, guides and re-seating (about $80 in parts, $225 labor)
I started in on freshening up the bottom end with new rod bearings, main seals etc. A baffle went into the new pan to prevent the oil starvation from happening again. The engine went back together smoothly, with the biggest challenge being the timing and balance shaft belts. In the mean time, I rebuilt the steering rack with new control arms, ball joints, tie rod ends, poly bushings etc. Ground Hog Day was the day that it all went back together again. Viola !
I ran the car in the first NASA RM event of the year at Pueblo, CO., where I did the comp school, received my provisional license, and finished 10th in my first race, still on stock suspension. The car ran superbly for the weekend, including the trip up and back from N.M. The only issue was a shot pressure cap for the coolant reservoir, $5 at VatoZone, and burping the cooling system. I was quite proud of myself, I had a good running race car, and I did it myself
We had no events scheduled for April in the RM region, and were invited to join the Midwest 944 guys at Gateway in St. Louis. You betcha !! I drove the car straight out (1100+ miles) and was ready for a fun weekend. It was not to be.... practice went fine, but in our Sat. qualifying session my temps rose and oil pressure dropped, pulled the car off track, and cried UNCLE ! It turns out that a number of things worked against me, mostly my low budget.
I've got another trashed motor, not nearly as bad though, as I didn't even fully spin the bearings this time. Oil pressure gauge was money well spent ! I left the car with a shop from Chicago (VFC engineering) who has built and serviced a number of the MW spec944 racers. I will be going all the way with a professionally built short block this time (crossdrilled crank, external oil cooler etc.) My corner-cutting, low budget, partial rebuild was doomed from the start and many lessons were learned from it. The 944 engine has weakness in the oiling system, and I should have built in all of the preventive measures the first time.
Although I didn't get to race, our next NASA RM event in May was very fun and cool, as I took the instructor clinic, and now have a provisional instructor's license. I'll be eligible for a full national instructors license after teaching a couple of weekends. I missed the big event at Miller Motorsports Park, with 30+ spec944s in the field, but that will probably happen again next year. The Porsche may not be back on track until our Aug. event at Hastings NE.
In the mean time, the wagon is ready for more track time (Time Trials again), after doing the timing belt, clutch, rack boots, wheel bearings and new rubber. I am still a Subaru guy through and through, and will find a way to go W2W racing in one eventually. I'm happy with my choice of classes to go racing in for now, and will press on undaunted by the early adversity I've met with, trying to race a 20 year old
PO
r
S
che.
WRXpert
Join Date: Oct 2002
Location: Montana
Posts: 547
that's tough luck on the engine(s)
sounds like it's good hands though
glad to hear the wagon is going to hit the track again
when I'm down that way I'll know who to hit up for instruction now
---
Mike

Wagon Mafiosa
Moderator
Join Date: Dec 2006
Location: Maryland
Posts: 6,493
Wagon, its great to see you are back on here again. Its great to hear your stories and "adventures". Sucks to hear about your misfortunes with the Porsche, best of luck building it up, and with running the wagon again.
---
Joshua
"2007 WRX- PPG'd, 20G- Tim Bailey tuned
Stage 2 2005 WRX
Cobbtuning.com"
Currently Active Users Viewing This Thread: 1

(0 members and 1 guests)
Posting Rules

You may not post new threads

You may not post replies

You may not post attachments

You may not edit your posts

---

HTML code is On

---