WRXtuners Member
Join Date: Jun 2013
Location: Newfoundland, Canada
Posts: 4
Stolen AP... and Married to ecu
---
Hey new wrx owner here. I recently bought an 02 with a Cobb ap. The engine and turbo and clutch was blown. I went after one of my buddies who race in Newfoundland Targa with an 03 WRX and bought a bunch off him. I bought his motor, Forced Performance 16G turbo, sti pink injectors, sti intercooler and sti bellows, bell mouth down pipe, partially recirculating waste gate, Cobb turbo heat shield, Perrin intake and silicone hoses, Exedy clutch kit forget the stage but its not stock. I bought a mishimoto oil cooler as well seeing he had one and I figured it would be best off anyways.
Now we got the car running perfect no check engine lights nothing. Cobb ap told me its running sti tune on 17.5 pounds of boost. Then a bunch of rigs got broke into and they robbed my ap. I guess it looked like a mp3 player.
I bought a Tactrix for it before hand and never got to unmarry the cobb and now its too late. Any suggestions. I have researched and talked to Cobb. Seems I have to buy another cobb to unmarry my ecu. I'm a honda guy originally and this is all new to me. Should I buy another Cobb and stick with it? I noticed one for sale in the Classifieds here says V1. How would I know if mine is a V1?
Anyways besides that my car was a salvage car from another province and when I got it I had to replace the cradle under the engine and the rad support. She has some rust. But I can work with it. Now see if I can post a few pics. We all love pics.
Thxs for looking.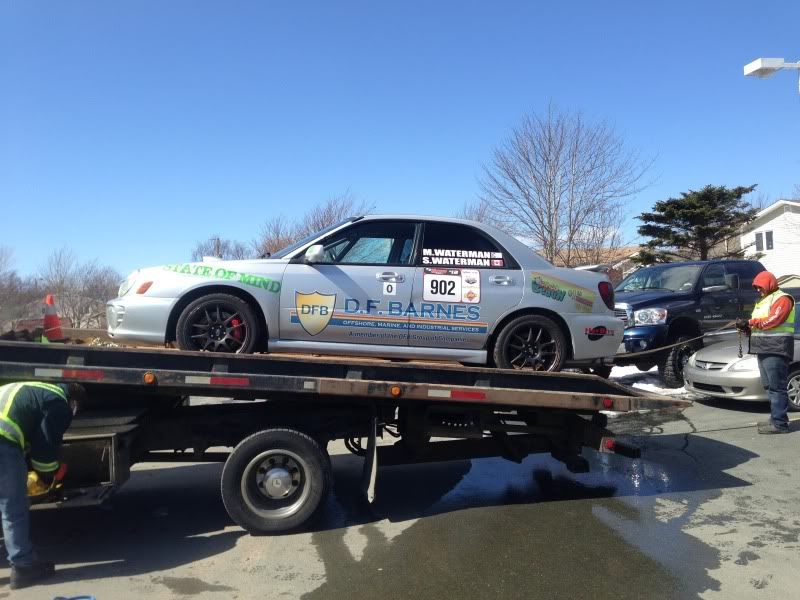 B71C3B0E-EC15-415F-8D24-67F3C526DEED-1010-00000066765063FE_zpse15dec3c.mp4 Video by Brockey | Photobucket
WRXtuners Member
Join Date: Mar 2013
Location: Illinois
Posts: 386
The V1's are a black box with a green screen. Newer ones are the silver cased ones.
WRXtuners Member
Join Date: Jun 2013
Location: Newfoundland, Canada
Posts: 4
Hmmm, I think my screen was blue. Never really used it as I was only getting the car together. Would the Dongle under the dash give me any idea which one I had cause that's still there.
Cobb can de-flash your ECU for a cost.

Return the Mishimotor oil cooler. It's a piece of junk and can potentially cost you your motor.
WRXtuners Member
Join Date: Mar 2013
Location: Illinois
Posts: 386
V1
v2
WRXtuners Member
Join Date: Jun 2013
Location: Newfoundland, Canada
Posts: 4
Thxs Brockton. V2 is what I had then.
Brfatal, thxs but I will take my chances. Engine was raced in Targa last year running an oil cooler so it should be fine
Currently Active Users Viewing This Thread: 1

(0 members and 1 guests)
Posting Rules

You may not post new threads

You may not post replies

You may not post attachments

You may not edit your posts

---

HTML code is On

---