WRXtuners Member
Join Date: Mar 2007
Location: Oklahoma
Posts: 293
My new Wrx
---
Here is my new 2011 WRB Wrx will put up more pics soon. Bought it Jan 11 with 7 miles on it. Right at 5000 miles now. Love it. Much nicer than the 07.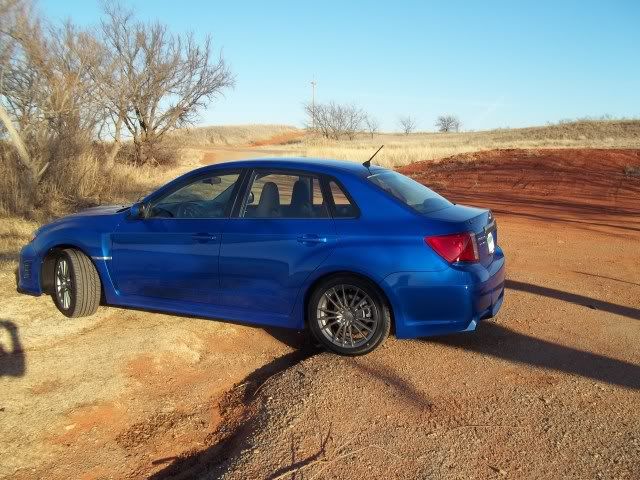 Already took a road trip to Florida. Here are some things I have noticed about the 11. I left Sunday from Oklahoma and from dallas Tx to Mobil Alabama it was pouring rain my tires suck in the rain. They do not hesitate to Hydroplane. The seats are much more comfortable than the 07. Left Port Charlotte,Fl on Wed and drove back to OK all was good on the way home until dallas tons of Ice the rest of the trip. Slowed me down alot but the subaru was awsome definatly traveled faster than the other highway goers. My review on this car with 5000 miles in less than 2 months is that it was very capable and comfortable to drive on long trips.
I drove in every road condition Rain,Snow,Ice,Night,Day,Hot and Cold and the only complaints I have are the tires in the rain,and the frequent stops for fuel but I knew that b4 I bought it. Hands down this car is much nicer than the 07.
---
Last edited by robert.lshoc; 02-26-2011 at

09:19 AM

. Reason: update
WRXtuners Member
Join Date: Sep 2009
Location: Michigan
Posts: 2,164
Still on the stock Dunlop SP01's? I've never had any wet weather issues with mine, but they definitely suck on ice/snow.
---
-Chris
WRXtuners Member
Join Date: Mar 2007
Location: Oklahoma
Posts: 293
yeah still stock tires might just be I-20 that sucks. lots of puddles and 75 mph= hydroplaning
WRXtuners Member
Join Date: Nov 2010
Location: Tennessee
Posts: 1
I've got an 11 too...Stock tires vs. Rain = Bad Idea! I have learned to adhere to the "Summer Performance" rating that they are given and enjoy the Forester on the "non-summer performance" days...
---
2011 WRX - Mine
2010 Forester - Hers
2010 Outback Sport - Sold
2001 Forester - Daughters
looks pretty good with no wing. how much did that cost at your local body shop, or did you do that yourself? I also got a 11 wrx and thinking about doing the same thing.
WRXtuners Member
Join Date: Dec 2005
Location: Illinois
Posts: 425
---
2005 WRX Cobb Stage 2
2009 Outback
Currently Active Users Viewing This Thread: 1

(0 members and 1 guests)
Posting Rules

You may not post new threads

You may not post replies

You may not post attachments

You may not edit your posts

---

HTML code is On

---