WRXpert
Join Date: Sep 2004
Location: Virginia
Posts: 2,800
Quote:
Originally Posted by
mosc
Why are you leaning towards any of them? What's wrong with the stock one?
It is prone to cracking/breaking including the nipples,it has a very small inner diameter.Any time you free up a restriction before or after the turbo faster spool will result.Same with upgrading the factory TMIC hoses.I'm not going just by Perrin's numbers either.Been tested alot on NASIOC.I use the APS inlet and love it compared to the silicone ones.Comes with a 3"-2.4" adapter for stockish turbos and a 3" for when you step up to the big boys.Takes me 30 min to install/remove.Like mentioned earlier,it's all about moving the PS line!
Perrin Performance - Turbo Inlet Hose
---
Homebrewed tuned with Opensource!
Moderator
Join Date: Feb 2004
Location: West Virginia
Posts: 3,483
One of the issues of SubieSport also proved upgrading the inlet hose (with a turbo setup) was effective using a dyno. The connectors on the stock inlet are surprisingly brittle.
---
Jon
Subaru Ambassador
WRXtuners Member
Join Date: Jul 2008
Location: California
Posts: 143
thnx u guys r great n hey dumdum r those the morette lights cuzz they r beautiful n if they are i think i'm definately gonna look into them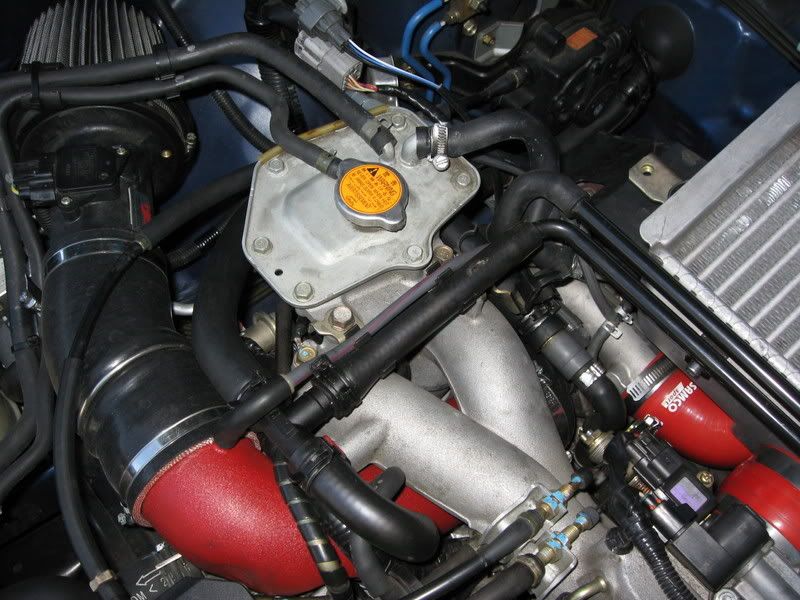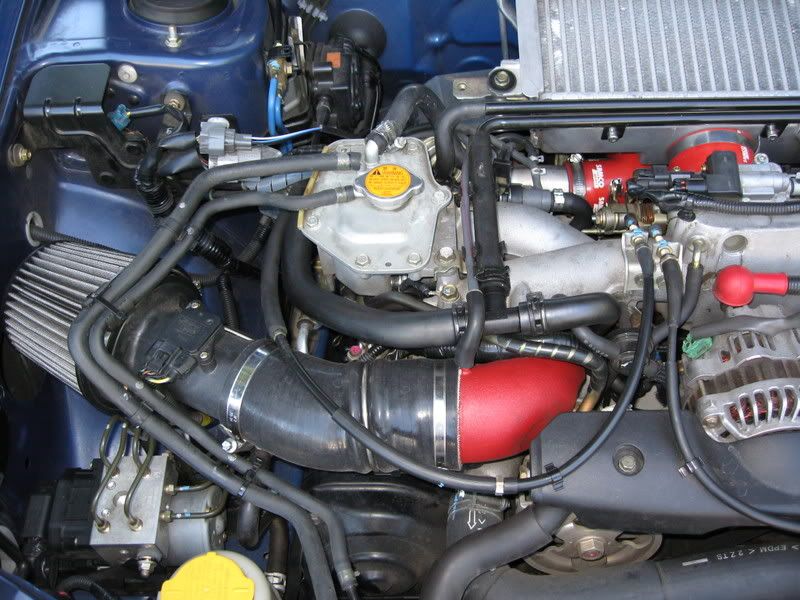 Here are pics of my APS turbo inlet. Love it, like others have stated its actually a hard pipe not a silicone one. Its the biggest one on the market so far and is a quality piece. For installation I took off the intake manifold because I had to do my injectors anyway, you can try to squeeze it through but most likely you'll end up scrapping the crap out of it. Good Luck.
WRXtuners Member
Join Date: Jul 2008
Location: California
Posts: 143
thnx for the pix well how long did it take you and how hard was it? i've only put an intake on and changed the side skirts. think i could handle it??
I don't know what your mechanical skills are and how patient you are. Changing a intake and installing side skirts is nothing in comparison to installing a turbo inlet, especially the APS one. (Silicone ones you might be able to squeeze through because its bendable) I would have a buddy or two help out and plan the whole day to get it done if your worried. From morning till night. It will be easier to get it on by taking off the intake manifold, some have been able to get it on without removing it, but it seems hard as hell and you would probably scratch it up as I've said.
http://forums.nasioc.com/forums/showthread.php?t=957386
Read through or skim through this thread on Nasioc.
WRXtuners Member
Join Date: Jul 2008
Location: California
Posts: 143
ok thanks i think i'm just going to c if i could help online or try 2 find somebody local to come and help me out or something
Quote:
Originally Posted by
dumdum
That site shows a 10whp gain in the midrange to top end. Wow.... I never knew the inlet hose was so expensive. That price is pretty much a aftermarket downpipe.
---
FAST
RELIABLE
CHEAP
Pick 2
2006 STi
1990 Civic time-attack project
1990 Toyota Hilux - daily
WRXtuners Member
Join Date: Jul 2008
Location: California
Posts: 143
ok so does anybody know if there will be any fitment issues with the APS turbo inlet hose and the SPT intake?? what sux is the APS is red n the SPT is blue...###
It should work....I have a cobb short ram. The SPT is about the same, should be no problem.
Moderator
Join Date: Dec 2006
Location: Maryland
Posts: 6,493
The SPT is Cobbs design pretty much, just with "SPT" on it instead of "Cobb". Or so I have read from others. Wouldnt really surprise me.
---
Joshua
"2007 WRX- PPG'd, 20G- Tim Bailey tuned
Stage 2 2005 WRX
Cobbtuning.com"
WRXtuners Member
Join Date: Jun 2009
Location: Tennessee
Posts: 1
how does the sencor that connects to the new inlet hose connect?
Currently Active Users Viewing This Thread: 1

(0 members and 1 guests)
Posting Rules

You may not post new threads

You may not post replies

You may not post attachments

You may not edit your posts

---

HTML code is On

---