exhaust silencer
---
Anyone know how much back pressure these create? I put mine on for the hell of it to see how it sounded and the car feels really sluggish. 18g setup.
---
two sexy asses
WRXtuners Member
Join Date: Feb 2007
Location: Colorado
Posts: 312
No idea but if you got an 18G, backpressure is what you want to get rid of, if it ran bad it had to of caused quite a bit
---
When the green flag drops...the bullshit stops
WRXtuners Member
Join Date: Apr 2006
Location: Quebec, Canada
Posts: 28
Hi!

I've put my silencer on today... I was a bit tired of hearing the loud droning of my Apexi N1. I checked on the Apexi website and they say it doesn't impair the car's performance and may improve low end torque on some models.

For my part, I think it reduces the accelerations when through 4.5-5 K RPMs. It's prime at first and then gets sluggish a little bit. Anyways... the real question is: is it going to damage any mechanic component in the long run? Anyone has an idea on this? I mean, it has to create some back pressure; if all that air is usualy drawned out by a huge hole instead of that little peep hole that is left after the silencer is installed.

Any thoughts? Cheers!
WRXtuners Member
Join Date: Jun 2006
Location: Connecticut
Posts: 1,229
well theirs no doubt it will create more back pressure! the amount it will, or whether or not its enough to damage anything is hard to say but its either having a loud exhaust the annoys you but knowing your car is safe or putting the silencer one and always having that "is my car going to be ok" question in the back of you mind...

idk how you guys live with loud exhausts, i have been looking at other options and custom made exhaust because i think my borla hush is to loud!
WRXtuners Member
Join Date: Jul 2007
Location: Florida
Posts: 112
get the greddy evo 2, it is not loud, but still gives the car its nice rumble. That is why i bought it. I did not want the car to be loud. It is still a 3" pipe, but the muffler does not retard the performance
WRXpert
Join Date: Jan 2005
Location: Ontario, Canada
Posts: 1,747
The gredy one is nice but if you want nice deep rumble but not loud go with the Borla hush.
---
Big Jae -
JDM version 7 bugeye
WRXtuners Member
Join Date: Nov 2004
Location: Oklahoma
Posts: 1,577
possibly reset te ECU. The car learned on a freer flowing setup and now that is not the flow it is used to. Soundslike a dumb fix but I ahve seen worse
---
▼SùbiΣ Mäƒiä▼
WRXpert
Join Date: Sep 2004
Location: Virginia
Posts: 2,800
The silencer does create a good amount of back pressure.I saw a test somewhere.It effects turboed cars more than N/A cars.If your exhaust is to loud you could install one of these.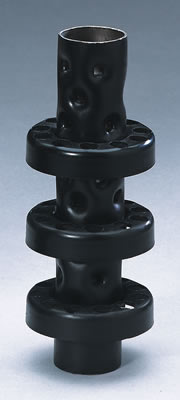 Don't reduce flow hardly at all.They are made for racing with open headers.They are sold at Summit Racing and Jeg's
http://static.summitracing.com/globa...cci-3d102r.jpg
---
Homebrewed tuned with Opensource!
WRXtuners Member
Join Date: Apr 2006
Location: Quebec, Canada
Posts: 28
Hey! Thanks a lot for your inputs guys! I really appreciate! BTW Bigbadbouda, I'm overnighting YOW next month, I'll give you a shout! Cheers!
Currently Active Users Viewing This Thread: 1

(0 members and 1 guests)
Posting Rules

You may not post new threads

You may not post replies

You may not post attachments

You may not edit your posts

---

HTML code is On

---