WRXtuners Member
Join Date: Dec 2016
Posts: 3
wrx running sti turbo
---
Hey, ive got an 2007 WRX and ive just got ahold of the stock Sti turbo. I was just curious to how much of an HP gain (roughly) i would get out of it assuming i have the supporting mods and a tune?
I'm on an 08 and the answer is a lot!
The key difference is that there will be more power in the higher RPMs so you will have a much wider and more responsive power band. The car will just pull, and keep pulling (unlike the TD04 which has an awesome little bump at first but immediately the power drops off).
As far as actual numbers in this thread:
Subaru Turbo List - NASIOC
TD04L-13T (your turbo) is rated for 200-275whp
VF39 is rated: 250-325whp
So you're looking at 50-100+whp gain depending on what other mods you put on and how well your car is tuned.
As far as my experience, it's night and day.
WRXtuners Member
Join Date: Dec 2016
Posts: 3
sorry i forgot to mention that the turbo is from a 2016 STI. Vf48. will this be a direct bolt on?
WRXtuners Member
Join Date: Apr 2015
Location: Ontario, Canada
Posts: 1,306
the 48's have a compressor cover shaped to fit the DBW assembly.

as long as you have a 2008+ STI intercooler and Y-pipe it will fit. otherwise you might need some elbow grease to get the silicon elbow to slip onto the turbo.

if you have a 02-07 WRX intercooler, the hard Y-pipe probably wont fit the turbo, and if you have a 08+ WRX intercooler, it wont fit at all as it is a different design.

also, you will see a gain of 50whp tops
---
Bugeye EJ207 Spec C 4EAT Wagon
happiness is measured in smiles per gallon
dont forget to wave
I dunno man, maybe it's the 2.5l motor but I've gained over 50whp. Although there are other mods like the water to air intercooler. I was also running 19psi of boost.
WRXtuners Member
Join Date: Jul 2015
Location: New York
Posts: 233
The 16 STi is twin scroll and uses EL headers, so you won't see the true gains that turbo supports without EL headers and the rest of the TS setup.
RoboTuner, I had to double check, but the 2016 WRX is twin scroll.... but the STI is not, it still uses the VF48? Someone correct me if my findings are wrong. Also the STI is the older EJ255 rather than the new 2 liter motor).
Check out this link, about 3/4 way down the page:
2016 Subaru WRX and STI research spec page- options, photos, prices, specifications and more
Also I always thought the VF39 / VF48 were nearly identical and found a side by side comparison. The oil return looks slightly differently angled (obviously you just swap) and the wastegate angles are slightly different but to me the compressor housing looks damn close to one another, I don't see fitment being an issue unless the TD04 of those years is different from VF39?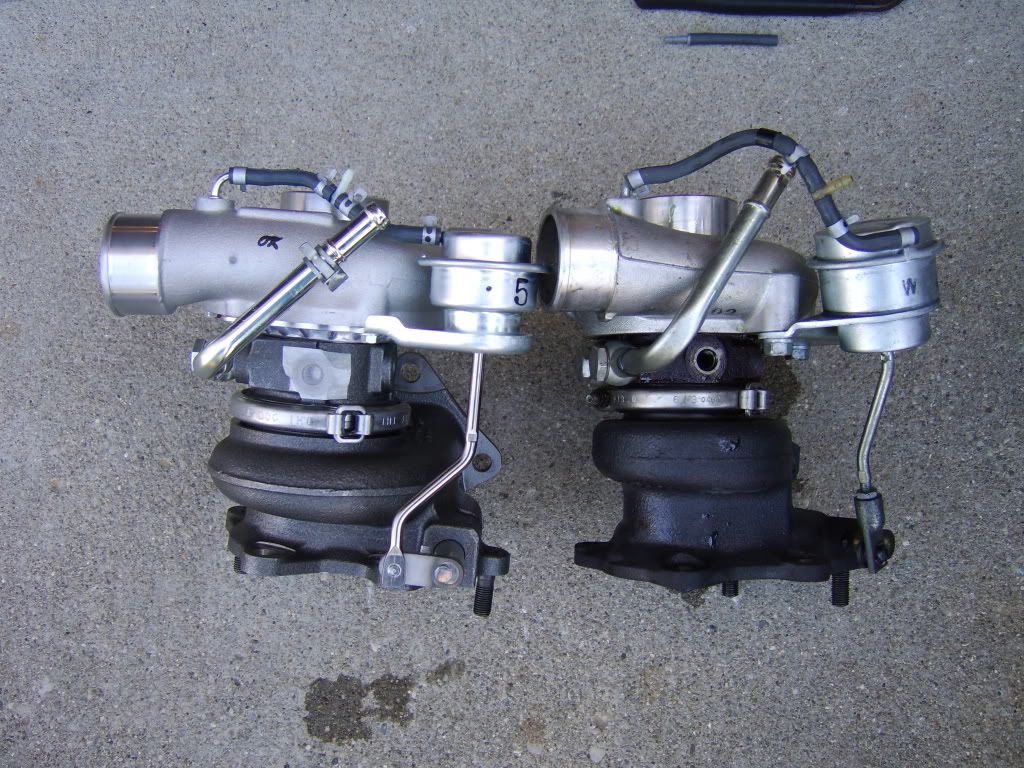 So my answer is.... IF a VF39 is a direct bolt on for your year, than so is the VF48.
My understanding is that they improved the wastegate design (looks like both the actuator and the actual flapper/hole) and the bearings are slightly better. Performance is considered very similar.
WRXtuners Member
Join Date: Dec 2016
Posts: 3
thanks guys this has helped heaps.if i was to run the VF48 on my 2.5lt v10 wrx what supporting mods would help produce the maximum power of this turbo but still make it make it safe to run?? sorry still pretty new to this stuff
If the turbo bolts right on, which I'm fairly certain it does, you will be pretty much good to go. I do not believe you need anything to run it.

If you want to make bigger power with it, you will have to push it pretty hard (trying to build more pressure with a smaller turbo results in a hotter charge and more load on the turbo). I think an upgraded intercooler should be up there on your list. Also, really pushing the turbo may start pushing your fueling system to its upper limits but I think if you're fairly conservative you'll be ok.

I don't know what your plan is for being tuned is, for me it's great to have learned to tune myself because I can tinker around and decide what I like best. I just recently noticed that trying to push 19.5psi out of it has required me to cut the timing by quite a bit to prevent knocking and I have a serious Water To Air Intercooler which is very efficient at cooling the hot charge. I am almost pondering turning it down to 17-18 (but making sure the boost hits those numbers consistently, and instead making power via fuel and timing... it seems to like it a lot better... but that's just my car, they're all different.

Always keep in mind that power is made from having a good balance between fuel, boost, and timing. Turning up each one too much has consequences and you have to tune one or both of the others down to compensate which may decrease your power.
WRXtuners Member
Join Date: Apr 2015
Location: Ontario, Canada
Posts: 1,306
Quote:
Originally Posted by
RoboTuner
The 16 STi is twin scroll and uses EL headers, so you won't see the true gains that turbo supports without EL headers and the rest of the TS setup.
thats the WRX using the FA20. the STI still uses the EJ25 and is not twin scroll.
i cant find the picture of the VF 48 comparison but here are the twin scroll versions...
left is a VF37 on a Cable Throttle motors, right is the VF52 on Drive By Wire motors
https://goo.gl/images/qYEDKV
notice the compressor housing outlet on the right in bent a little bit. this is to clear the DBW throttle assembly. you'll notice the same few degrees of bend in the pic ruso linked above. its only a few millimeters, but that will matter when you are trying to wiggle on your intercooler, and im quite certain the plastic wrx y-pipe will crack trying to fit it on thus resulting in boost leaks
other than that, everything else works fine.
the turbo will get you to 300ish wheel hp, but not with just turbo + injectors + intercooler. i should have stated that sorry. yes with more mods you can see a total gain of 100whp over stock using a VF turbo on your WRX.
the reason you dont hear about this issue much is because most people when upgrading to a VF turbo, upgrade to an STI intercooler, thus never encountering the problem to begin with. personally, i have never heard of anyone using a VF turbo and not getting an STI intercooler at bare minimum.
---
Bugeye EJ207 Spec C 4EAT Wagon
happiness is measured in smiles per gallon
dont forget to wave
Currently Active Users Viewing This Thread: 1

(0 members and 1 guests)
Posting Rules

You may not post new threads

You may not post replies

You may not post attachments

You may not edit your posts

---

HTML code is On

---