WRXtuners Member
Join Date: Sep 2012
Location: Virginia
Posts: 3
New! Still Looking
---
Hey all, just wanted to introduce myself. Im Chris and I am looking into buying a used 2011-2012 WRX. I do not have one yet but will in due time. I currently own a 2009 Cobalt SS and as I am getting older, I realize I need something more spacious and reliable, not to mention AWD. I joined to not only meet other people, but to do research on the car and specific things to look out for when buying.

So far the site has been really helpful and I look forward to meet some of you in the Mid Atlantic area. Thanks for all the help and advice in advance. I do not plan on doing a whole lot with the car (im saying that now but everyone knows how that changes once you start putting some money into it) exhaust, intake, coilovers, wheels, and small tune.

About the car i have now. I have 3" catless dp, 3" exhaust, intake, upper and lower charge pipes, larger intercooler, and custom tune putting my car around 320whp and 380wtq. She has 99k miles, so it's about time to retire her. She's been fun and has shocked and/or disappointed many lol.

So if anyone could give me any tips and pointers to help make my search easier, it'd be appreciated!
Welcome!
Well being that you have found this site helpful means your doing good so far because that means your doing your homework and not just jumping the gun and buying the first WRX you see in the lot.
My best advice is to get the carfax and steer away from other people's mod projects.
Good luck man.
---
Cobb Accessport Stage 2.
JDM ej205 swap.

Home state: PA Crew

Chuck.
WRXtuners Member
Join Date: Sep 2012
Location: Virginia
Posts: 3
Well about 1 month ago, I purchased a 2011 WRX with 27000 miles in Lightning Red. It is stock, does have a boost gauge and a head unit installed from what I can tell. Overall vehicle is in great conditioin and I will post pictures up later when I get the chance. I am glad I had purchased it with the recent snow/ice that hit us the past few days. It did really well and so far I have have no complants
WRXtuners Member
Join Date: Jan 2011
Location: Pennsylvania
Posts: 2,697
Red 11! Nice. I look forward to seeing those pics.
---
Randy-
2002 blaze WRX- sold:(
2004 Wrx-sold
2011 Wrx limited
99 Fozz- sold
Eagle eye crew
WRXtuners Member
Join Date: Sep 2012
Location: Virginia
Posts: 3
Here are some pictures that I have: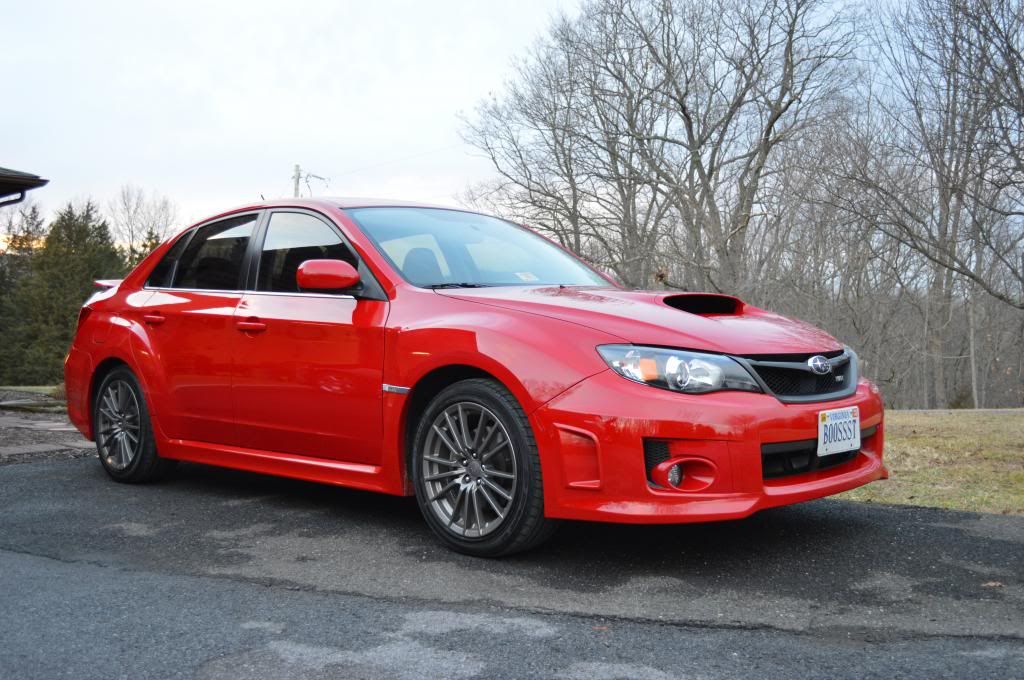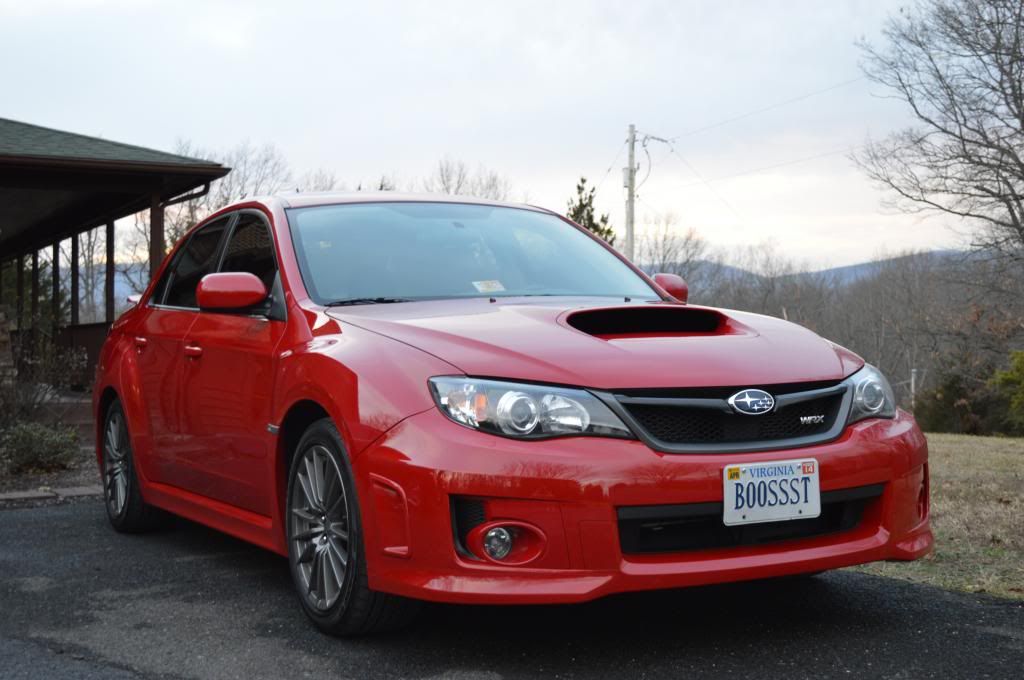 Premium Member
Join Date: Dec 2012
Location: Massachusetts
Posts: 1,139
I shoulda just financed a used one, cause the lightning red is so sexy! I'm not a fan of used cars though. Can't believe they took it away for 13'! I'll never forgive Subaru lol!
Welcome though OP. And def go stock like mentioned. Many people do the wrong things in general...nevermind with a turbo'd vehicle. People tend to get extra silly lol!
Sent from my iPhone using
AutoGuide.com Free App
---
Brandon - 13' SWP WRX Sedan
WRXtuners Member
Join Date: Jan 2011
Location: Pennsylvania
Posts: 2,697
Oh, the sexiness. That front plate is borderline rice tho... Haha
Glad to see you came back. Enjoy
---
Randy-
2002 blaze WRX- sold:(
2004 Wrx-sold
2011 Wrx limited
99 Fozz- sold
Eagle eye crew
Currently Active Users Viewing This Thread: 1

(0 members and 1 guests)
Posting Rules

You may not post new threads

You may not post replies

You may not post attachments

You may not edit your posts

---

HTML code is On

---