WRXtuners Member
Join Date: May 2011
Location: Manitoba, Canada
Posts: 16
need some help where do these hoses go?
---
need some help i didnt taking the motor apart so i need some putting it back together
first one..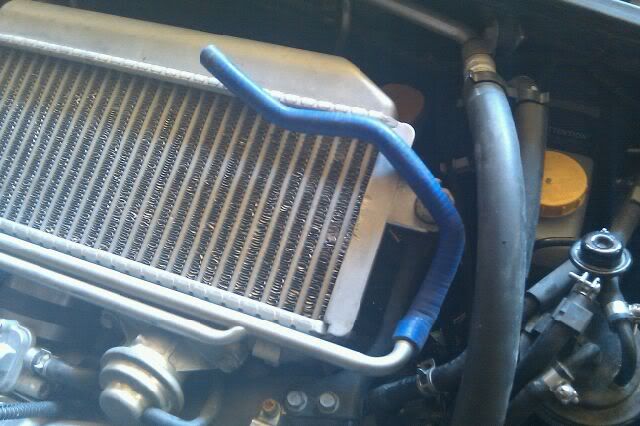 second one( one goes to the valve cover what does the other side go to?
third one
and then the 2 small lines that go to the rad which one goes where?
Numero uno goes to the drivers side valve cover, little black plastic cover right behind the oil filler tube. That's not the stock hose, so it may be tricky to fit. It should go through the bracket on the end of the intake plenum.
Dos, similar to 1, only on the passenger side valve cover, the other end goes to the breather tube on the TMIC. The rusty looking bracket pictured goes on the end of the plenum.
Tres, the one with the thumb on it goes no-where, yes that's right, no-where.....It comes off the drivers side TGV actuator and......no-where.
The two small lines to the cooling system, the larger of the two goes directly to the small nipple on the pass side of the rad. The smaller goes to the little metal pipe thingy that bolts on at the fan mounting points, with a hose that goes to the overflow reservoir.
Full shop manuals here:
Impreza Manuals | ken-gilbert.com
Many pics of WRX engines can be found online using google.
They are your friend
---
Cullen
WRXtuners Member
Join Date: May 2011
Location: Manitoba, Canada
Posts: 16
the second pic with the bracket goes on the drivers side, bolts to the plunum and one side of the hose goes to the black plastic on the valve cover, and other end i dunno no where it goes. ? or should i just leave the bracket off with the 2 black hoses, and just run the blue hose in the first pic to the valve cover?
Guess it would help to know if its a left hand drive
When I refer to drivers side I mean left (from the seat) pass side is right
---
Cullen
WRXtuners Member
Join Date: May 2011
Location: Manitoba, Canada
Posts: 16
So I don't need the bracket and black hoses I can.just run the blue line in the first pic to the valve cover.

Also for the spark plug wires on passengers side which goes were? The drivers side ones were marked passengers weren't. And yes its.left hand drive
Currently Active Users Viewing This Thread: 1

(0 members and 1 guests)
Posting Rules

You may not post new threads

You may not post replies

You may not post attachments

You may not edit your posts

---

HTML code is On

---