WRXtuners Member
Join Date: Aug 2012
Location: South Carolina
Posts: 2
Follow me as I look for a Subaru
---
Hey guys and girls,
Not going to rabble on about my experience with cars or what I know, because, frankly, first posts are always full of crap anyway. However, hopefully I will become a permanent member of this community sometime soon so we can get to know each other better. For now, I am just glad to be here. I am looking forward to using all the wonderful resources that are here at our fingertips to help me decide on a Subaru WRX or not, and if not, I think this thread will be a nice contribution to the forum, because I am purchasing a car within the next month and am going to use this thread to keep my self in order, and to help fellow mortals see what really happens when you're looking for a new car, what cars/people you can run into on the way, and ultimately, what factors can influence your final decision.
Of course, I am looking forward to having you guys looking over my shoulder just in case I get into something too quick, because, as experienced and methodical as I am, I am still an enthusiast, and CAN get too excited.
But before I start, I feel it necessary to sat that I have already done my part on the forum by reading the present and pertinent stickies and ACTUALLY reading the rules, now please do your part by contributing helpful information to the thread or by refraining if your comment isn't helpful. I am on the search for a car here. Something that is a serious responsibility and a large financial decision. Please consider that. If you know of a car that you think I might like, post up a link or send me a PM. Have something else you think I haven't thought of? Post it up. But please make sure it's something that isn't already in the stickies. I've read all of them, and so can you.
Now, to get started:
I am without a car do to a recent wreck that wasn't my fault, but life is good for me because I am getting a nice insurance return, I am getting additional money from all the parts I was able to pull off my last car, and I have a rental car provided for me my by insurance for a good while. However, I am going for a used WRX or similar, not an STI or some other top trim that I really can't afford. I am getting something that I will be able to easily pay off within the next two years and be done with it. If you can, I would suggest you do the same.
Cars I am currently considering in order of preference:
2006 or 2007 Subaru WRX
2007+ Mazdaspeed3 hatchback
Budget=15,000 or less
Expected Mileage=70,000
Condition=good+
Location=37315
I am considering the 2007 Mazdaspeed3 because it is a close competitor to the WRX, can be found for a bit cheaper, and usually comes with more options at the same price. Both cars have similar weaknesses and strengths that can be argued over, but for me, even with the less HP and options, my preference is first for the Subaru and than for the Mazda. I like the engine better, the AWD better, the company better, and the impression better. But let's leave it at that.
I expect any WRX to be driven hard, so I am prepared for that. People don't buy a WRX to baby it, but I am willing to take the chance on a WRX if it has been driven but taken good care of and modded soundly.
Anyway, without further to do, let's get started. Here are some of my options so far:
(I will not be posting direct links as to help secure the good cars that I have found. I do not want someone from google sweeping out my car from underneath me.)
WRX's
Option 1:
Asking 13,000
Mileage: 79,xxx
Local to me, more modded than I would like, including 18x8.5 rims, off-brand intake, STI wings, custom exhaust, and gauges. This is what I was told about, at least. I do not know what could have been on the car previously. After talking to the owner over the phone, I don't think I can believe anything he says, and he hasn't replied to me since I asked for the VIN number. In short, I am not going to consider this car much longer. But because it's local to me, I will be willing to take a look at it if he responds with the VIN. I also think I could negotiate on the price, being that he mentioned it before I even asked. I could get this car at a low price, and depending on how the car checks out, it might be worth the risk. Sometimes people are just nervous over the phone, but most of the time it's just because they're idiots. Contacted first 3 days ago.
Find 2:
Asking 14,500
Mileage: 60,xxx
Not local to me, but in good condition. A few mods, but good mods, including upgraded turbo and intercooler. He has also kept all original parts, which is important to me. I am interested in this car. However, I am looking for a lower price if I can. LTD edition is not important to me, I would rather not pay the extra cash. Also, I would have to figure out a way to get the car here, which would mean additional cost and/or time. We will see. Owner contacted with e-mail. No reply yet.
Find 3:
Subaru : WRX in Subaru | eBay Motors
I am posting the link cause I have decided to not mess with this. It has been wrecked considerably, is a salvage title, and is on the other side of the country. This is a textbook exmple of something you don't want to mess with. Make sure you read up. Owner never contacted.
Mazdaspeed3's:
Find 1: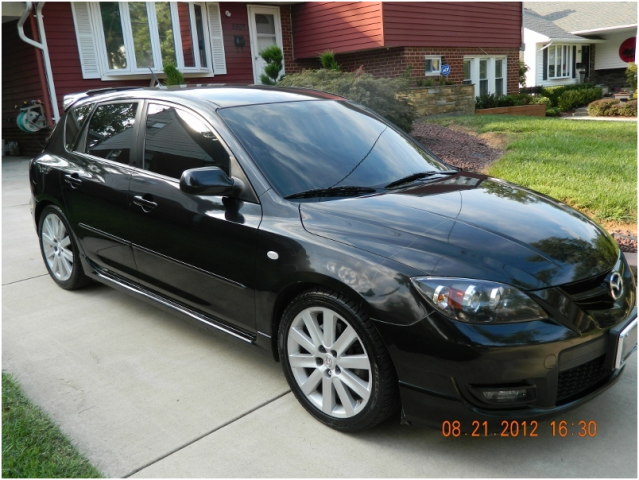 Asking 12,000
Mileage=79,xxx
NICE car. Good mileage, great condition. Stock. Not too far. Quick, but not my preference. I really don't want another FWD vehicle, but beggars can't be choosers. We will see. Owner not contacted.
Anyway, that's where I am now. If you guys know of a friend or someone who is selling their WRX, let me know. I will posi-rep the honda out of you if you find me my car. Please follow the above examples as a guide.
WRXtuners Member
Join Date: Jun 2007
Location: Texas
Posts: 4,996
Welcome to the forum!

I have 2 questions:

What year is the Speed3?

And I take it you prefer black?
---
Paul
2002 WRX Sold
2007 WRX Sold
2007 STi totaled
2007 Foz XT sold
2007 MS3
WRXtuners Member
Join Date: Aug 2012
Location: South Carolina
Posts: 2
Mazda is a 2007. Really nice vehicle.

I DO prefer black, however dark grey is also nice. I am open to the idea of other colors but right now it's early in the game, I am going to be picky for now.
WRXtuners Member
Join Date: Jan 2011
Location: Pennsylvania
Posts: 2,697
Don't like the first Subaru much but the first speed I do like.
I too am a fan of both cars but always come back to the soobs.
Did the first guy ever get back to you, car looks to be a bit shady as well
---
Randy-
2002 blaze WRX- sold:(
2004 Wrx-sold
2011 Wrx limited
99 Fozz- sold
Eagle eye crew
Currently Active Users Viewing This Thread: 1

(0 members and 1 guests)
Posting Rules

You may not post new threads

You may not post replies

You may not post attachments

You may not edit your posts

---

HTML code is On

---