WRXtuners Member
Join Date: Dec 2009
Location: Colorado
Posts: 15
Perrin Exhaust Help!!!!
---
Does anyone have any ideas why my exhaust hangs to the right????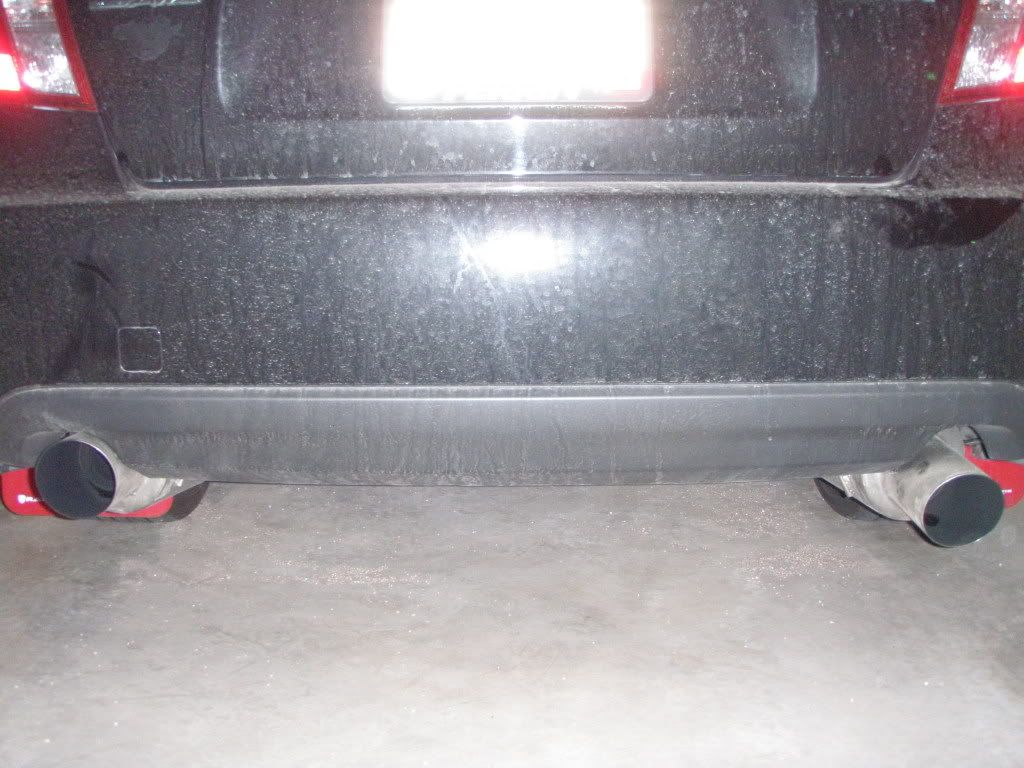 . !Cry!
the right tip is about 3 inches lower than the left. The left has absolutely no play with the bushings and the right seems to be super loose. I thought it was the fitment of the stock dp and the cat back but just installed the perrin dp today and its still the same way.
I hope that made sense
Thanks for any help
WRXpert
Join Date: Jul 2006
Location: Pennsylvania
Posts: 2,182
It almost looks like its bent, did you back into something? If not I would loosen all the connections and try to center it up.
---
Dom Tuned 2003 WRX Wagon
251.3 WHP
235.8 WTQ

If it's worth doing, it's worth overdoing
WRXtuners Member
Join Date: Apr 2007
Location: Maryland
Posts: 3,235
...if it's bent, I'd imagine you could bend it back, right? Just bend the hangers gently a little at a time until you get it where you want it.
---
John
07 WRX
WRXtuners Member
Join Date: Dec 2009
Location: Colorado
Posts: 15
No i didnt back into anything thats fresh outta the box. . . never thought about bending the hangers haha but do you think new urethane hangers on the low side would help with pulling it up? plus i tried loosing everything and trying to re-align it and when i tighten it back up it goes right back.
WRXtuners Member
Join Date: Sep 2009
Location: Michigan
Posts: 2,164
A quick fix, and not permanent, would be putting a hose clamp around the urethane hanger on the low side and tighten it until it's even. At least then it will look normal until you can get it fixed.
---
-Chris
WRXtuners Member
Join Date: Mar 2010
Location: New York
Posts: 16
it almost looks like your right side is just bolted up wrong. I have the perrin CB as well, and had no problems. I guess what I'm getting at is that if you see how the tips are slanted from the muffler, the right one looks as if the slant is aimed down instead of fitting properly. if that makes sense at all.
Currently Active Users Viewing This Thread: 1

(0 members and 1 guests)
Posting Rules

You may not post new threads

You may not post replies

You may not post attachments

You may not edit your posts

---

HTML code is Off

---