First time ever at the strip
---
Just got back and let me say it was a blast. my RT sucked and but I did get a Z06 in 60Ft and my best run of the day was a 12.844 vs a Lightning. My run prior to the 12.8 run was a 13.36 so Mr. Ford driver was pissed, in fact he spent an hour and a half scowling at me and messing with his programmer to run a 12.80 and left right afterward. I definately plan on going back once I get my transmission upgraded and my tune finished.
I ran the car 7 times and this was my first ever time to run at the strip.
Slip and video here.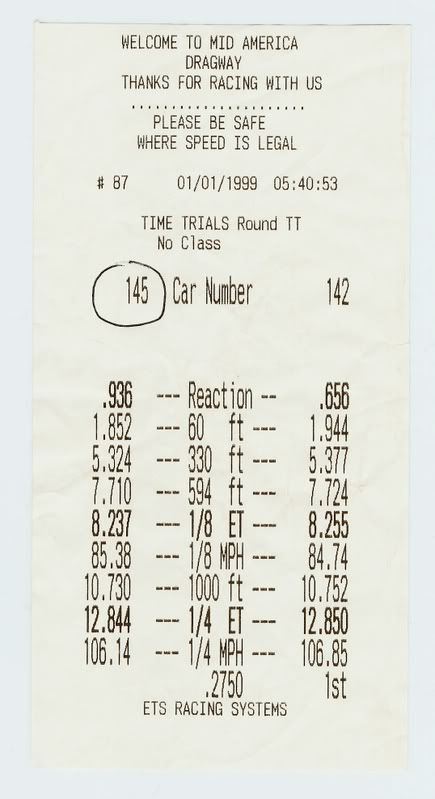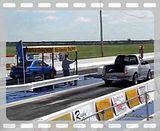 ---
▼SùbiΣ Mäƒiä▼
Damn dude, a 12.8 with a stage 2 04!! (thats what I gather in your profile) Fantastic time!! I'm in the same boat with the tranny situation...probably wont be going to the track untill its upgraded. Congrats on the kills! Z
---
12.7 @ 109
Yea I guess I should update my profile
I am running a hybrid now that is completely stock 2.5l block and 2.0l heads, the heads have been slightly PnPd. Other mods SZ49 turbo 17 PSI, SSAC FMIC, modded stock injectors and still in process of a internet tune with Tim Bailey.
---
▼SùbiΣ Mäƒiä▼
oh shit...a little different from stage 2 lol...I've seen a 12.9 from a stg2 06 TR which I thought was a good time...then I saw your post I was like DAMN!!! I'll be stoked to run a low 13 right now...but I'm too scared to break something with my current income situation...so the next track date will be after PPG's
BUT DAMMIT I WANNA RUN RIGHT NOW!!!!
---
12.7 @ 109
that's pretty good, i think u should be low 12's with your setup, get the tune down to perfection and i think you're there. id be careful though, racing is addicting hope the tranny holds. pretty damn good for first time at the track i might add.
---
rollin on 17's now and they're dirty
WRXtuners Member
Join Date: Oct 2006
Location: Iowa
Posts: 905
i have a 03 with stock turbo and i ran a 12.84 in the 1/4 and a 8.13 in the 1/8 with a protune, im usally getting around 1.65 to 1.70 60ft, keep tuning your car you will get it to prob a 12.5 or so.
Moderator
Join Date: Dec 2006
Location: Maryland
Posts: 6,493
Jave congrats on the times man. Nice setup on the car also. Get that protune and embarass that Lightening again.
---
Joshua
"2007 WRX- PPG'd, 20G- Tim Bailey tuned
Stage 2 2005 WRX
Cobbtuning.com"
lol thanks! Just heard back from Tim about my run. He said that I have maxed out my MAF on top end so I need to get that fixed and I should be low 12s
---
▼SùbiΣ Mäƒiä▼
Currently Active Users Viewing This Thread: 1

(0 members and 1 guests)
Posting Rules

You may not post new threads

You may not post replies

You may not post attachments

You may not edit your posts

---

HTML code is Off

---