WRXtuners Member
Join Date: May 2007
Location: North Carolina
Posts: 25
new here, new car. looky
---
heres my baby, like the title said, im new here so im just showing what im bringing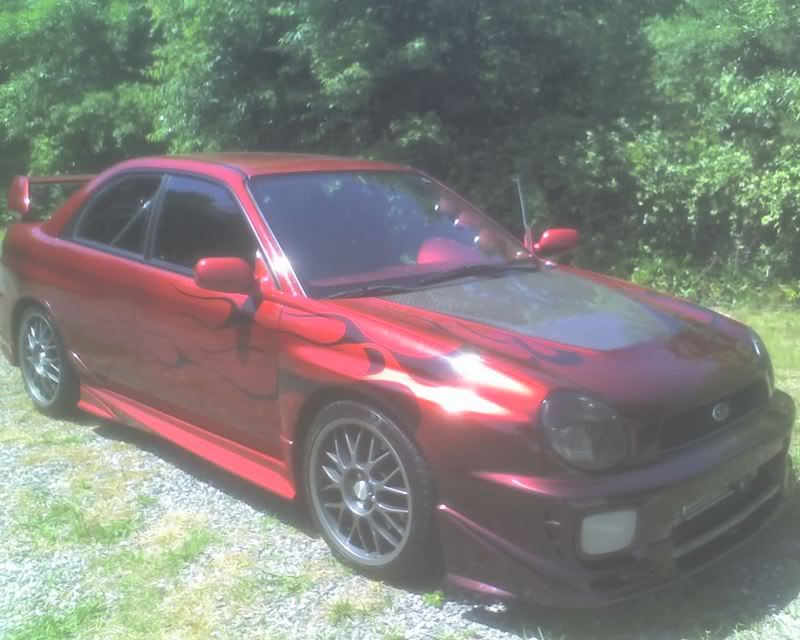 heres more if anyones intrested, oh and theres pics of my last car
these were takin on my phone so they arnt crisp
hey looks badass, i think i noticed a front mount, what kind of mods do u have. it looks nice but im not personally a fan of the flames. nice car though
Moderator
Join Date: Dec 2006
Location: Maryland
Posts: 6,493
Not a bad looking car at all. Unique is always good, if its done right. A list of mods would be cool too.
Your car looks sick,except for the flames.But thats just me.
---
-MSPT Tuned 18g
WRXtuners Member
Join Date: Jul 2006
Location: Massachusetts
Posts: 76
The dash looks nice from that pic. why not show everything? besides that car looks nice!!!
---
Jes's 02 RX
Moderator
Join Date: Mar 2005
Location: Pennsylvania
Posts: 6,808
actually one of the more tasteful and artistic looks out there for all out custom paint. Cool car (and I'm a famously hard critic in these parts so that's high praise)!
---
2015 STi: Still Stock
04 STi, 04 WRX: SOLD
WRXtuners Member
Join Date: Apr 2003
Location: Iowa
Posts: 902
Screw those guys...FLAME ON !!!!!
---
All right, where is the distributor cap? I need to find the #1 plug wire to hook up my SUN machine.
WRXtuners Member
Join Date: Jul 2007
Location: South Carolina
Posts: 16
Rock Out Wit ## Flame Out!!!!!
Currently Active Users Viewing This Thread: 1

(0 members and 1 guests)
Posting Rules

You may not post new threads

You may not post replies

You may not post attachments

You may not edit your posts

---

HTML code is On

---