WRXtuners Member
Join Date: Aug 2016
Location: Kentucky
Posts: 6
$500 WRX build
---
Hey everyone, welcome to the build. A little background first. I've always been into performance cars and lusted after turbo Subarus since I knew what they were, but never had one before. I dabbled in the turbo awd setup, including a 1990 Eagle Talon TSi AWD and a 1991 Dodge Stealth TT, but didn't love them for a variety of reasons.
Fast forward to now, and I'm working as a Subaru dealer tech, finished with my Master Technician training, and have the means to start on a project car. What better way to reward (and test) myself than this?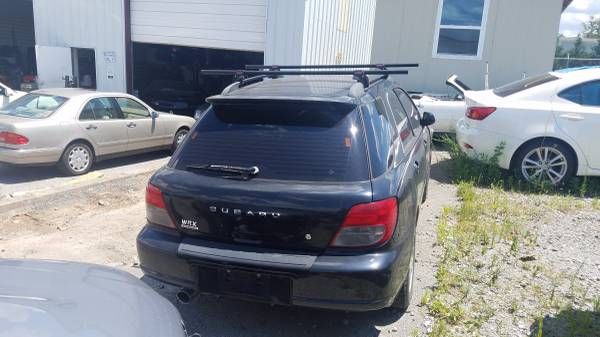 The car is a 2002 WRX wagon. Perfect interior, 90% of the body is in great shape, no rust underneath, and no engine or transmission. Sounds like the perfect starting point for a build to me. Found it on Craigslist for $500 so it was well worth the 6 hour drive to pick it up.
The one thing that was making me nervous and the reason it was so cheap was that it has some frame damage to the right front rail, but I've already got parts and have found a reputable shop willing to do the work.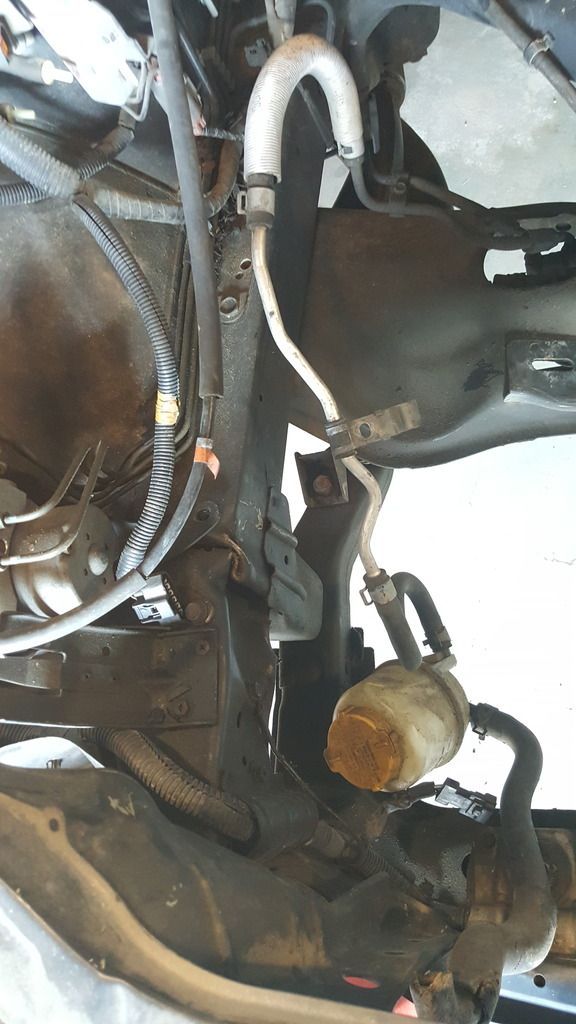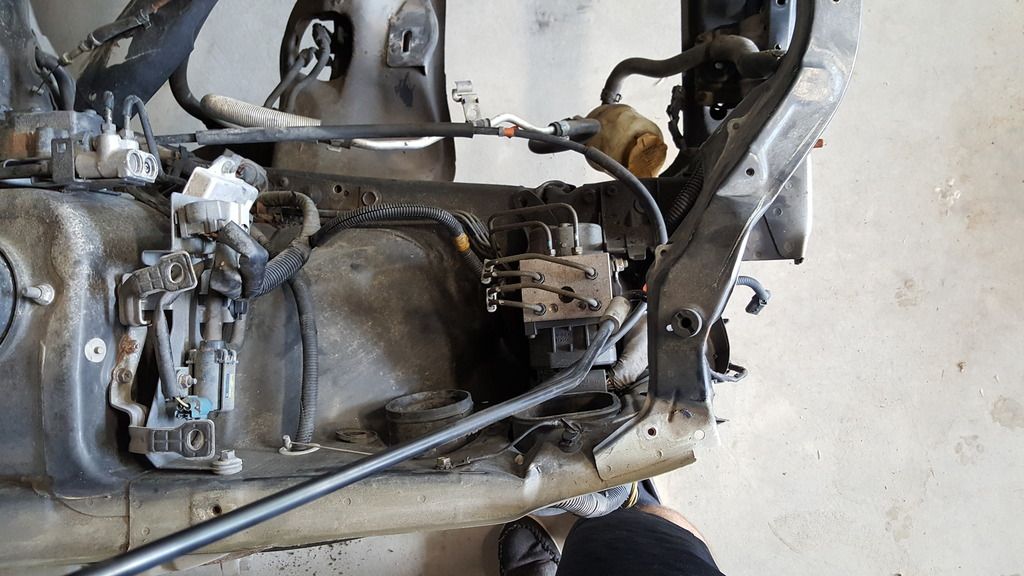 While I'm waiting to get the frame work done and saving up some funds, I have time to do some planning. I have a good EJ25 turbo shortblock out of a 2011 Forester XT, and today I picked up for cheap a nearly complete EJ20 that needs some attention. I had been considering a hybrid build, but after hearing about reliability and tuning issues have started to reconsider. I was made aware of Outfront Motorsports by a user here and am very interested in their decking service. I'm leaning towards getting the EJ20 deck closed, putting the EJ25 crank in to stroke it to 2.1L, doing forged pistons and rods, and a decent turbo along with some mild head porting. Ideally I'd send that power through a 6 speed DCCD transmission.
This will be a long term project but should be a fun one. I'd appreciate any feedback or advice and look forward to joining the Subaru crowd as an owner. Stay tuned for more!
---
Last edited by wrxnician; 08-15-2016 at

07:03 AM

.
WRXtuners Member
Join Date: Aug 2016
Location: Kentucky
Posts: 6
Small update. I got the replacement frame rail and found a nearby shop willing and able to do the work. I'm hoping to have that part finished by the end of this year.
I also found a deal on an EJ20 with a bottom end problem. I picked it up last weekend and have been tearing it down to see what the issue is. LH head and pistons look perfect so far(other than some rust from sitting), so I'm assuming it's rod knock. With that development and some more research, looks like I'm back on the hybrid train.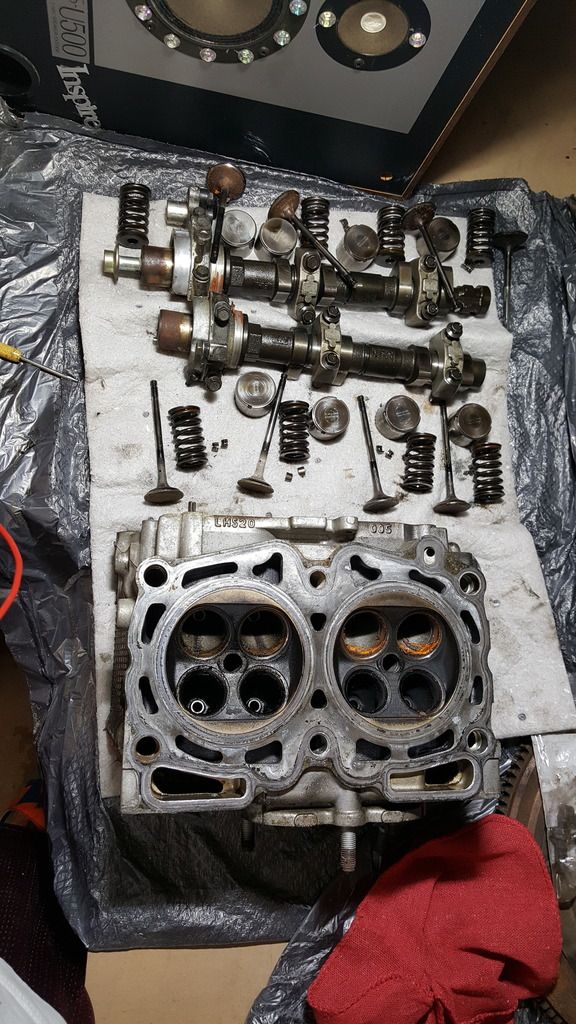 After blowing my budget for the time being, I'm back to free projects and researching/ shopping around. Today I also finished removing the carpet to clean it really well and will probably lay down some Dynamat before I reinstall it.
Puppy approves!
In the meantime I have a few questions. I'm thinking my goal will be around 350-400whp, not really set on numbers but would like a seriously quick wagon. For turbos, it sounds like a 20g, FP green, or similar would work for this, right? Also will I need to go FMIC or will a larger TMIC be enough? I have neither right now so I'm not invested in keeping anything.
Another thing I don't have is an ECM. Is a stock ECM the way to go here? Whatever I end up getting I'll have protuned.
WRXtuners Member
Join Date: Apr 2015
Location: Ontario, Canada
Posts: 1,300
man thats decently clean floor pan... you could almost eat off it.

i really need to go shell hunting down in the usa... everything up here 10+ years old is falling apart.

youre going to need the ECU to make it plug and play. the only reason for building a hybrid is because you have to stick with oem wiring and its all plug and play. at the point you need to buy a standalone ecu, you can drop in whatever hell engine you want. you could go with a dual avcs full 257 longblock at that point if you want since you'll be re-wiring the car anyways.

ps: take that fram filter off and use an oem one. yes fram makes the oem filters for subaru but that doesnt mean they work the same. also if you use the 3X FRAM tough fiilter or whatever they are called... you are adding restriction to the oil flow and could cause oil starvation at high rpm. they work great for what they are, they do block 3X the dirt, but they clog quicker and dont flow enough oil. they do not belong on a performance engine. (obviously youre not reusing the filter, thats not what i mean btw. just saying to use an oem filter. its the same principle with your home furnace. HVAC guys will tell you not to use the super thick furnace filters because they add too much restriction and kill your furnace from over-stress)
---
Bugeye EJ207 Spec C 4EAT Wagon
happiness is measured in smiles per gallon
dont forget to wave
---
Last edited by titter; 08-22-2016 at

08:00 AM

.
Here in a few weeks I should be pulling my car apart for the "S" swap. I also have a ton of EJ205 shit in my storage unit. Pretty sure I've got an ECU somewhere and engine harness. Also have some JDM goodies from my first 207 that I need to start selling off, so if you need something shoot my a PM there is a good chance I have it
---
FP GT35R MoTeC M800 AndrewTech PPG'd Wagon - 513AWHP
13 Abarth 500 - Stockish
- Matt
WRXtuners Member
Join Date: Nov 2015
Posts: 218
You are my hero. Seeing things like this make me feel like a punk for not installing the parts I have sitting around waiting to go in. On that note I have a couple random things here for that bugeye wagon. If I see you in need of what little i have ill hit you up and send them your way. Youve got my respect for becoming a Subaru Master Tech and taking this on. I think the track youre on would make Subaru very proud.
---
This is great you guys are great.
WRXtuners Member
Join Date: Nov 2015
Posts: 218
And Titter is spot on about the Fram filter thing. Subaru has a higher minimum of quality and specs for their OEM filters that Fram doesnt have to follow for their own product line. OEM Subaru filters are the way to go, even if they are so tiny it worries me lol.
---
This is great you guys are great.
Was pretty sure Purolator made the blue Subaru filters and Fram were the black Subaru filters. Then again lots of things have changed.
---
Resident Grumpy Old Man(Keith)
03 WRX 2.0L
08' LGT Gears
Spec C goodies
WRXtuners Member
Join Date: Apr 2015
Location: Ontario, Canada
Posts: 1,300
---
Bugeye EJ207 Spec C 4EAT Wagon
happiness is measured in smiles per gallon
dont forget to wave
Currently Active Users Viewing This Thread: 1

(0 members and 1 guests)
Posting Rules

You may not post new threads

You may not post replies

You may not post attachments

You may not edit your posts

---

HTML code is On

---