Sat. 4/18/09 Cruise from NJ to the Pagoda in Reading, PA- GET EXCITED
---
Day: Saturday 4/18/2009 Rain date: 4/25/09
Time: 11:30am
Location: TBA: somewhere near Subaru of Morristown
Cruse to Pagoda in Reading, PA. When I went to Penn State berks this was an amazing place to go to. The Ride up the long windy road was so fun and the view is Super Awesome. On this cruise It will start at 11:30am (don't know where maybe a subaru dealer off 287 or 78 would be good).
There will be two or three stops on this cruise:
One before getting to the Pogata at Premise Maid for Ice-ream and to see the 6ft solid chocolate clock. Where local PA members can meet us at.
Then we will continue our way up to Pagota.
After we took our picture on top of the mountain we will go into Wyomissing for a sandwich at Isaac's they have Super Amazing pretzel bread. From there we can decide if we want to head to the waterfall and lake and take a second photo session or go an a cruise on some windy roads next to the Tulpehocken creek.
To get to Pagota from Morris County about a 2hr drive so gas up. A walky-talky system will be used depending on how big the cruise gets.
Pagoda-Skyline Inc
www.
pagoda
skyline.org
98 Duryea Dr
Reading, PA 19601
(610) 375-6399
Get directions
More information »
Premise Maid Candies
www.
premise
maid.com
10860 Hamilton Blvd
Breinigsville, PA 18031
(610) 395-3221
Isaac's Restaurant & Deli
"]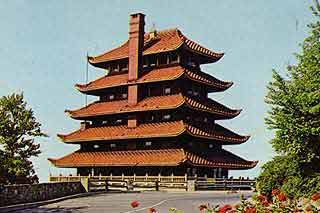 Quote:
Originally Posted by
04funwagon
took the wife, two youngest kids, and my parents that are in town for a couple of days over to Isaac's. First time to eat there for all of us. All I can say is wow! very good food. The kids loved the rainbow bread. can't wait to eat there again on saturday. I can lead the group over from the pagoda if need be now that I know where Isaac's is.
Quote:
Originally Posted by
Kitsune
FYI, I think they finally have the fire tower open for the public. Usually they only open it for special events.

I've been up to the top, spectacular view, make you think you are a regular lord of the land.

Just to make you guys aware, the roads around the Pagoda are indeed awesome, but if it is a nice day out there could be some traffic and pedestrians. A lot of people think its a smart idea to jog or ride their bikes up Duryea Dr, even with all the blind corners. Late at night it is mostly deserted, but the park is right on the edge of the city after all. So just be aware and don't try to set any hillclimb records.

Mike F.
---
The meeting spot is: Wallmart 235 Ridgedale Ave, #14, Cedar Knolls, NJ
Also I have a link to Google maps to show our rout we will be taking.
the A to B to C to D of our trip
So weather says 69 and mostly sunny!!!!!!


If anyone wants to meet up on the way, lets work something out!
hear 75 degrees tomorrow. Here is the run down.

From NJ leaving at 11:30-11:45AM to Premis Maid should take 1.5hrs which should be there about 1pm

From Premise Maid Candies to Pagoda is 30min (adding 30min of eating) Pagoda say 2-2:30pm

Sit up at the Pagoda-Skyline Inc for a while take some pictures, It might actually be open to walk inside. Enjoy the curves or whatever.

From Pagoda sometime around 3:30-4pm drive down to Isaac's Restaurant & Deli 15min.

Eat and chill then go our separate ways!

From PA to Morristown NJ 1hr 45min
Directions are posted above "Google maps A to B to C to D" see you there!
Currently Active Users Viewing This Thread: 1

(0 members and 1 guests)
Posting Rules

You may not post new threads

You may not post replies

You may not post attachments

You may not edit your posts

---

HTML code is On

---